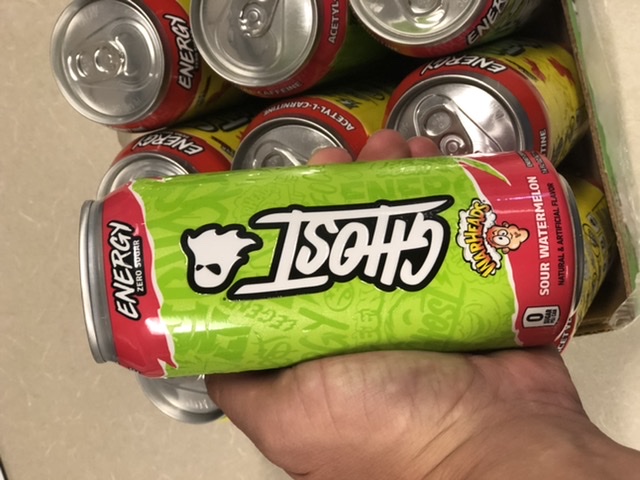 Well lookie watt we have here
Got 13 coming in tonight as well.
energy drinks are my wheelhouse excited to try and give an unsolicited review.
just took it from the freezer… The Sour Watermelon is excellent, just a touch of the artificial flavoring on the back end, but overall based on flavor I can easier call it a top 5 RTD flavor, and could be an everyday drink. The 200mg of caffeine is my sweet spot for a morning pick me up.
drinking it as i type this, i am liking it more and more. good shit.
Very curious as to how the "Apple" part of that will be executed – but right on!
Looks like some delicious carbonated bleach
i'm on the "clean diet" shit brah
I found the one I had to give me an amazing energy boost, i do believe its due to Astragin being included… have you noticed at all? yeah i had same thoughts, every sip was better and better… I have a 12 pack arriving today to my house in the Burgh, but alas here I am in Utah working FML!! My friend will enjoy em i am sure lol
I respond well to neurofactor so I'd say more focus than energy for me… only 2/3 of a can in but super happy. i'll speak more on it after i try the other flavors and a few more cans.
I have one of the free cans of ghost watermelon coming so my Mrs can try. I'm interested in the remaining flavors. More stockists would be nice first.
I've got a variety pack arriving today. Will post thoughts for each flavor as I try them. I'll be starting with Citrus.
Only one thus far I'm really interested in, looking forward to hear your thoughts
Can we order that yet from a retailer?
I posted the link above where you can order the Ghost Drinks From

Yes - see bob's post above. I ordered from them, thanks to bob!
Something for all you "Goons" @Joey_Savage
he had to look at the screen for the ingredients of his own products?
Glad I'm not the only one that noticed that.
When you and your formulator are practicing social distancing