Overview:
Let me begin by stating that I had the privilege of running some Axe & Sledge products during the end of my time with PricePlow. I was beyond impressed with the company and owner Patrick Williams. They are truly a class act and aim to bring the best products to market - hence the premium price and the premium ingredient listed in each product.
When you pick up an Axe & Sledge product, you'll likely notice 5-10 different patented logos on the label, and that's because Axe & Sledge use the most innovative and current ingredients available.
Food Sources:
I was skeptical of a Meal Replacement product when I read "beef" in the label. Pat Williams confirmed to me that less than 1% of the total protein content comes from Beef, with the rest coming from: whey isolate, whey concentrate, egg, brown rice, and pea protein. Not a bad combo for a meal replacement and this little nugget squashed my skepticism of using this product.
For carbs, Home Made included my two favorite carb sources, oats and sweet potato. The fats come from MCTs, which are the ideal fat sources for energy. Home Made also use DigeSEB, a patented digestive enzyme complex to aid in digestion for the quality nutrients the product contains.
Flavors:
Let's get to the good stuff - the flavors come in Sweet Potato Pie and Double Chocolate Brownie. Both flavor are excellent and arguably better than any protein product I've ever had. NO. FREAKING. JOKE.
Sweet Potato Pie:
Who likes sweet potato pie? Who likes sweet potato casserole with extra marshmallows and brown sugar? If you said "I do," than you are going to love this flavor.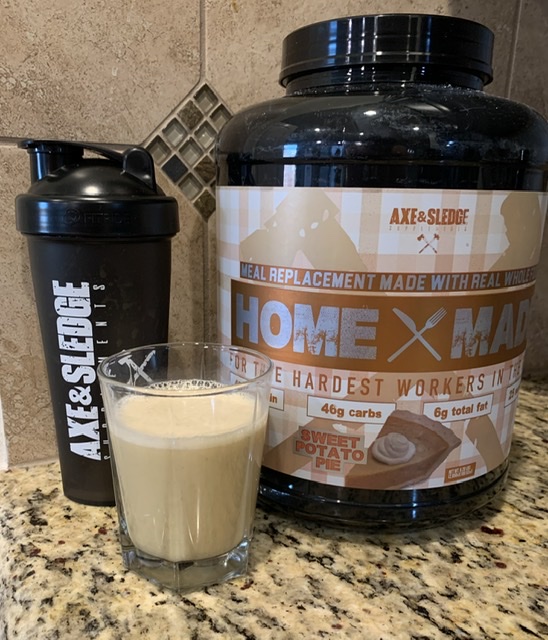 Sweet potato pie Home Made packs the luscious and creamy density of a sweet potato pie and the perfectly balanced ratios of sweetness and spice. This flavor shines because of the texture. This is a moderately thick shake with incredible consistency and texture. The MCT gives it a texture that is unrivaled by other shakes, for anyone looking for a "dessert-lik experience while drinking their shake.
This could be my favorite "uniquely flavored" protein shake flavor ever. It's a rare stab at a wholesome and clean flavor (sweet potato). Axe & Sledge crushed it, and this is far superior to the flavor of the other Sweet Potato Pie flavor on the market (Redcon1). This one gets a 9/10.
Double Chocolate Brownie:
Who likes to lick the bowl of brownie batter? If you do, then you'll love this flavor. No words necessary, it tastes just like brownie batter. If that doesn't sell you, I don't know what will.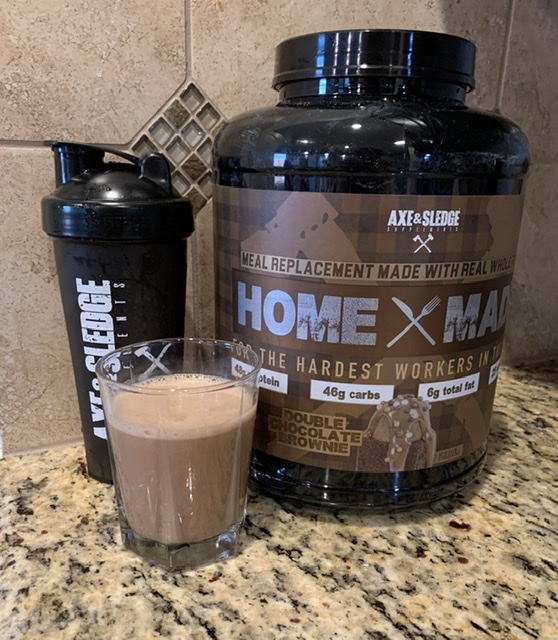 This could be the greatest chocolate flavor available. There are plenty of good chocolate flavors - but this one takes the cake…or brownie… like Sweet Potato Pie, the creamy and rich consistency makes drinking this flavor an experience similar to drinking a liquid version of brownie batter. The oats/MCTs are micronized so we'll that there are no chunks or specs. It's a flawless and smooth drink.
This flavor is just as good as Sweet Potato Pie and I will use both, guaranteed. 10/10.
Macros:
Home Made's recommend serving is 2 scoops, which yields 420 calories, 48g of protein, 46g of carbs, 6g of fats, and 10g of fiber.
Respectively, this compares darn well to any meal we should be eating in terms of performance or bodybuilding. Myself, I prefer to break up calories through out the day - so I would take 1 scoop of this as a midday snack and another scoop later at night before bed. This yields two delicious shakes with a much lower caloric value (210 calories, 24g protein, 23g carbs, 3g of fat, and 5g of fiber) instead of one.
Takeaway:
The takeaway here is that Home Made bridged the gap of cheap meal replacements by using quality ingredients and an industry leading flavor system. This product will yield a liquid form of any quality meal you could eat. Don't take my word for it - check out the site and review the ingredient list fully.
I think everyone will love this product and anyone who eats quality food will benefit from it. Not everyone wants to drink calories, but I would encourage everyone to try it, just to see how freaking awesome it tastes!
Anyone wanting to grab Axe & Sledge, message me for a coupon code.
Home Made, while not a product for everyone, gets a 10/10 from me and put Redcon1 MRE in its place…the trash can.
Giveaway:
Going to give away 4 samples of this. To enter - just comment on which flavor you want and what your favorite meal replacement supplement is.