Hey everyone!
I just finished up 8 weeks of Performax MassMax and gained a nice 7.8lbs from it along with a caloric surplus, and I'm now moving on to X-Gels from SNS. I really think MassMax did me well, but I've been very curious about ARA supplementation.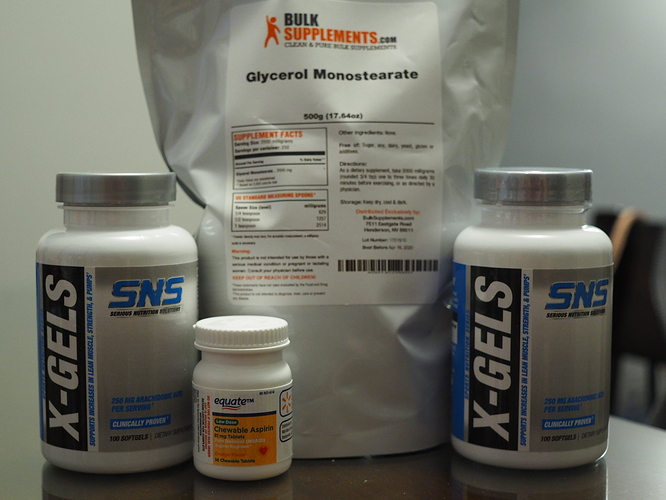 My plan is:
4-day upper/lower split training (Fierce 5 Upper/Lower)
1.5g X-Gels (6 caps)
81mg baby aspirin
6g GMS (from BulkSupplements)
As of right now, I will be taking X-Gels as so (still deciding on the best plan but I think this is pretty good):
Wake up, 2 rice cakes, get ready for gym, drink pre-workout with added 6g GMS, take 6 X-Gels + 81mg baby aspirin about 45 minutes later before warm up, then train.
I took my first dose today, just without GMS since that will be here tomorrow. My first two doses will be without GMS unfortunately, but I'm not too concerned about that.
Day 1
I can't say I have much to report. I will say that my pumps felt pretty intense after lat pulldowns today. I usually get a nasty bicep pump with those, but it's deload week this week and even at a lighter weight (~50% my max) I got borderline hurtful pumps. I understand ARA needs to build up a bit before I feel its full effects, but I was kind of surprised here.
Anyway - i'm very excited to run this. I'm looking to put on some size at the moment and X-Gels seems like a good path to take. I have some "before" pictures, and will be taking "before" measurements either later today or tomorrow morning. Currently all I know is that my waist is around 33 1/8" at the moment.