Shake One - Let Blue Star help you start your day giveaway
Got it! Waiting on one more and then I will send everything to Chris
@DaSlaya please get me your information in the next 24hrs. I will choose another winner tomorrow morning otherwise so we can move forward
Bum bum buuuuuuuuuuuuuuum
Send me that information hoss
Now Bonanza was a good show.
Apologies. Been on the road for a family thing. Info on the way. Thank you so much
Everyone's information was sent up. Look for email confirmations in the next week and DM me if any concerns or if you don't get a notification.
Looking forward to everyone's thoughts and review!
Got mine in!
Came with a shaker as well!
Thanks so much, plan to take some during the week before work!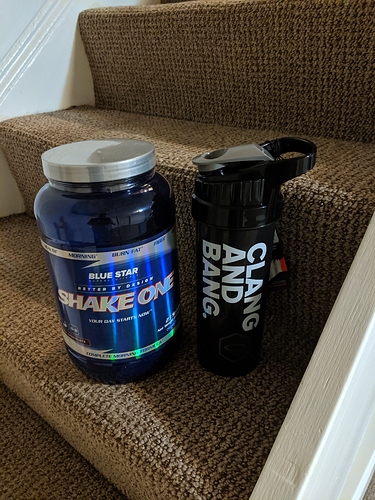 Got this bad boy along with a great shaker in the mail today!! Thank you guys so much, and plan to start this tomorrow after my morning workout! I will of course be posting my thoughts after the run!
Looking forward to everyone's thoughts!
I'm waiting for someone to invoke…
'You're my boy Blue (Star)'
How is everyone doing with Shake One? Looking forward to reviews
I am enjoying it, though it does not keep me full for very long. The flavor is great and the convenience is just about as easy as it gets. I like that I can feel the slight energy boost as well! Should be done in about 2 weeks and review will be up!
It's good to hear you're enjoying it. It's not filling to me either as we use whey isolate which tends to be not as filling but an easier to digest protein. And allows for more protein per serving.
I've yet to see any reviews. Anyone have one coming?
Yeah maybe tomorrow I will try mixing it with Milk, that should keep me full longer. That is what I do for my afternoon snack, and it works well! @Matt_Towson Mine should be up in 2 weeks when I finish the tub!
@Matt_Towson @Adidasshorts My review will be up the weekend of the 20th. I've been experimenting a fair amount with it, maybe you guys will appreciate that
My review will be up this week!