@stad0203 sent me a bottle of this gargantuan sized tub of Cellucor's latest innovation.
I was astonished at the size of this bottle. The only preworkout I have used with a tub as large, would probably be NutraBio Extreme PRE. This label is no joke and anyone who enjoys solid focus and stims will have a blast running this as their pre-workout.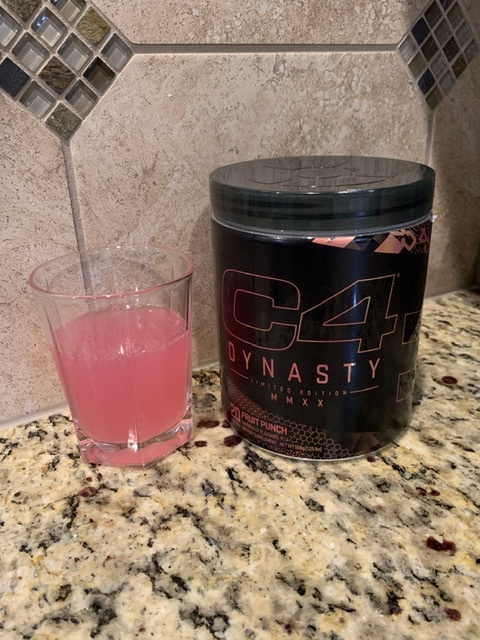 Label:
Right off the bat - this label grabs your attention with the amount of actives.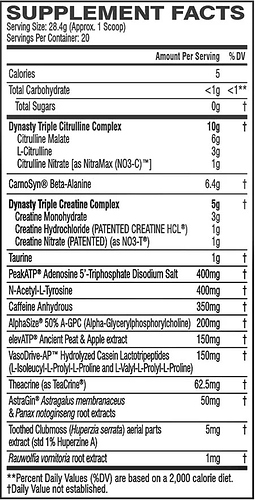 Triple Citrulline Complex:
If you're a Citrulline responder, then you will love the 6g dose of Citrulline Malate, combined with the 3g of L-Citruline. Throw in 1g of Citruline Nitrate and you're are rocking 10 total grams. I would love to see a bit more nitrates in here, to take the pumps to the next level, but this is still a great pump enhancer for 90% of people. I am just one of those poor responders to citruline, which is why I prefer more nitrates.
You may notice the 6.4g of CarnoSyn and get worried, but the amount of actives in Dynasty dilutes the beta-alanine tingles. Try it and you'll believe me.
Creatine Complex:
I would be happy with 5g of any creatine, but here we get another "tri" blend. 3g of mono, 2g of HCl, and 1g of Creatine Nitrate. Now the formula is peaking my interest with the 2g total of added nitrates.
The rest of the profile is where Dynasty will make you a believer. The ingredients are a cocktail for premium energy, mood enhancement, and tunnel vision focus. 350mg of caffeine is a tad much for me, so I will opt for 3/4 of a scoop moving forward - but I ran the full scoop serving for the purpose of this review. I was really in the zone when using this. Every set got full attention and every rep got optimal mind=muscle connection,
Effect:
Between the PeakATP, Tyrosine, Alphasize, elevATP and VasoDrive-AP - this formula is off the wall. I promise you can benefit from this across several categories of product - you won't be limited to "just" energy. The best part of this formula, is that the caffeine didn't overpower me.
Normally I get jittery with more than 275mg of caffeine in a single serving… to my surprise, that didn't happen with Dynasty. The energy was powerful yet smooth at the same time. The alphaGPC really helps hone in the energy and focus it into the task at hand (weight lifting). I was very impressed with the synergy of all the actives.
Taste:
Do we truly care? Probably a bit - but the taste is great. C4 always delivers on taste, whether it's a powder or a carbonated C4. Fruit Punch is my go-to flavor for all fruit-based flavored supps, so this works incredible as a stand alone (for taste) but also compliments other fruit flavors (Watermelon Vasoblitz) very well.
Takeaway:
C4 Dynasty is a homerun and will likely be a new favorite pre for any of you who try it. I love it and will utilize it once or twice a week for those days where I really need the pick me up (a tub is only 20 servings - so don't rush it!). For the pump chasers, I might recommend adding some pump enhancers (Glycerpump, is you like waterpumps, nitrates or agamatine if you like roadmaps). The heavy stim base makes it a product I wouldn't want to use daily - but it has a place in my arsenal.
I believe this is a limited edition product (@stad0203 - correct me if I am mistaken). If that is the case, I would encourage people who are eager to try it, to grab one before it is gone.
Great product, great label, great effects, which all lead (in theory) to a great workout.