Ghost Energy:
Citrus – Ghost Energy in citrus reminds me of a diet sprite. You get the carbonation provided in the diet soda with a lingering sweet and sour flavor in the aftertaste. This flavor is straight to the point, provides an ample amount of flavor, and has a hint of a white monster in the tail end. This isn't a bad flavor per se, but it is the least enjoyable of the bunch.
Tropical Mango – The tropical flavor captures a fruit punch melody that hits your taste buds out of the get-go. Pineapple, orange, passionfruit, and grape linger as the mango flavor hits hard in the backend of the aftertaste. Ghost did a good job of capturing all the elements of these flavors to provide a very smooth and refreshing carbonated beverage. If you enjoy a melody of flavors this is the one for you.
Sour Patch Kids Redberry – I have never had the legend pre-workout flavor of Ghost Redberry, but this is a game-changer. The contrast of sour and sweet is absolutely perfect. The icing on the cake is the carbonation where the flavors go hand in hand with a perfect ratio to provide the true flavor of sour patch kids. Given how well Ghost was able to replicate this in the energy drink I now see why this flavor was so heavily requested in the pre-workout powder.
Warheads Sour Watermelon - What I enjoyed about Ghost is how they bring a very natural flavor to the market when duplicating a popular candy. Right away you get the sweetness of a warhead, but not to the point of filling your taste buds with sugar. The sour taste of the candy comes in the backend, which gives you the dual flavor from a true warhead. The carbonation complements the flavoring making it shine.
Ranking of Flavors:
Sour Patch Kids Redberry
Warheads Sour Watermelon
Tropical Mango
Citrus
Formula: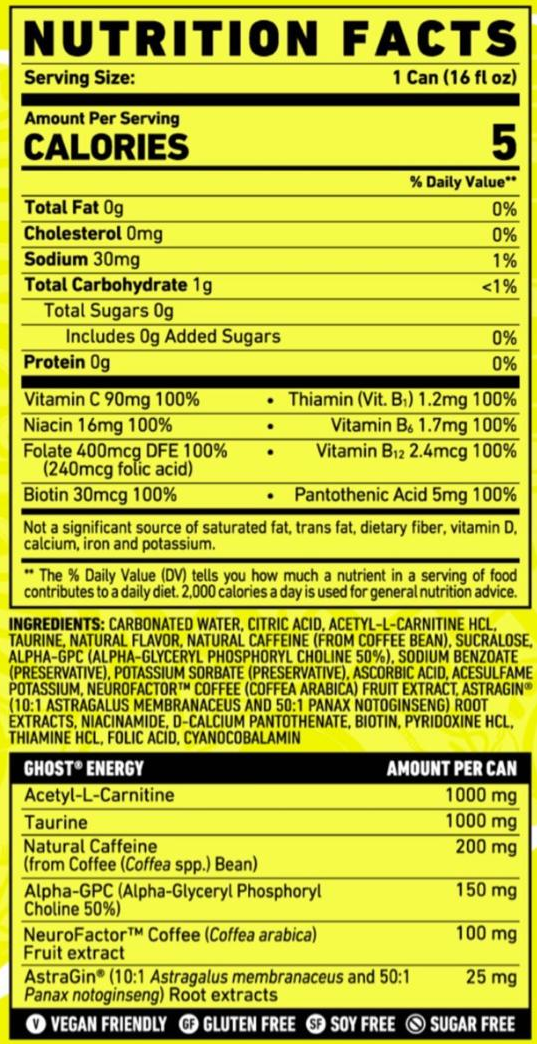 200mg Natural Caffeine
1g Taurine (Endurance booster)
1g Acetyl-L-Carnitiine (ALCAR) ((Boost in focus))
150mg Alpha-GPC (Cognitive booster)
100mg NeuroFactor (Brain health and function)
25mg Astragin (Improve uptake of ingredients)
Ghost energy provides a fully transparent label
Ghost exclusively partnered with Anheuser-Busch to manufacture and distribute the ready to drink products.