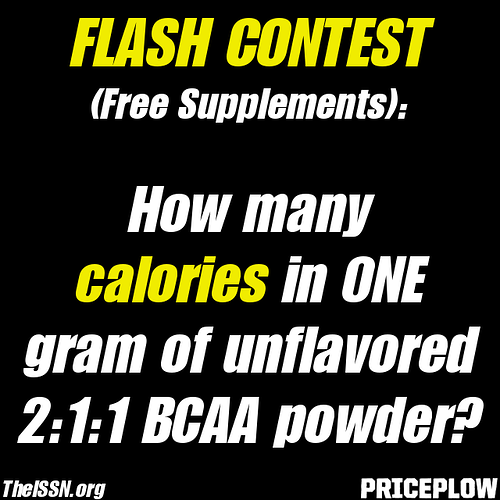 FLASH CONTEST! How many calories (two two decimal places) are in ONE gram of unflavored BCAA powder?
Because Mike invited Dr. Douglas Kalman of The ISSN on to the channel after he measured / exploded a gram in a bomb calorimeter to finally find out for real!
Winner is whoever goes closest WITHOUT going over (taken from all social media platforms).
Prize is whatever kind of free supps you want from our stash (you just let me know what you're interested in most).
Contest ends whenever I decide to publish the video today, so hurry up, feel free to get friends involved (if they win they better share with you), subscribe to our channel at https://www.youtube.com/subscription_center?add_user=PricePlow and check out The ISSN website at https://www.theissn.org/
Thanks to @NutraBio for providing the third-party tested BCAA tub and Dr. Kalman and the ISSN for the opportunity to get some more "official" data out there.