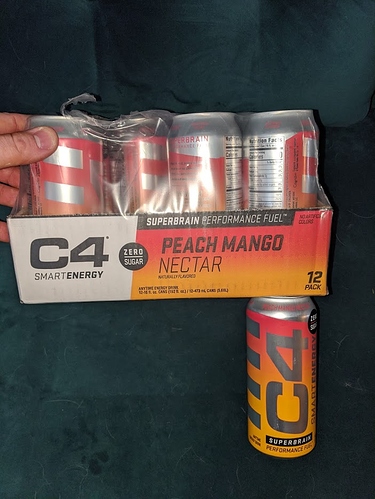 Taste: I received the Peach Mango Nectar flavor. The taste was very refreshing. It had a nice hint of Peach in the beginning and then smooths out with a great Mango taste. I enjoy Orange Mango C4 Ultimate PWO, so the Mango was just as good (if not better) in this drink. You guys at Nutrabolt have truly mastered this flavor. I had a co-worker take a sip at work, and she loved it as well. Not sweet, but just right, and it tastes like a quality drink for sure.
Effects: I spent most of 2019 trying out a variety of energy drinks, which included C4, C4 Ultimate, Merica Labz, Raze, and Bang. I am going to give my overall rating at the bottom (not in flavor order) but best in terms of effectiveness in my opinion. Hopefully that will bring some context to this review. Typically I open up one energy drink around 10 or 11am, and that same can will last me until 4pm. I never just pound these things, now lets break this down a bit.
Energy: On my first can of this I felt a great surge of energy. Not a huge rush, but just very slow and I just felt wide awake and it did a great job at defeating the afternoon blues. I have since had 2 other cans on 2 other days, and felt the same, so this was not a placebo effect. So this gives me a nice energy boost.
Focus: Turns out calling this smart energy is not a gimmicky way to sell more of a different product. I did find myself with some nice focus on this, and really did enjoy Cognizin Citicoline. I had no issues focusing on the task at hand at work, even when it is 3pm and my alarm went off at 415am. No problems! It is nothing insane, like a big tunnel vision effect, but it was a nice subtle boost for focus.
Overall, combined with the nice energy and focus boosts, you have a really great energy drink here. It tastes great, and with no artificial dyes or colors it feels like you are drinking a quality drink. I highly recommend you try this, I was very lucky to have been able to try this. Well Done!
My Overall Energy Drinks (in order of effectiveness)
C4 Smart Energy
C4 Ultimate
C4
Raze
Bang
'Merica Labz
Reign (do not like Reign, it gives me anxiety)
Cellucor may be on to something here @stad0203 @burntreality