Blade PM - Blue Star Nutraceuticals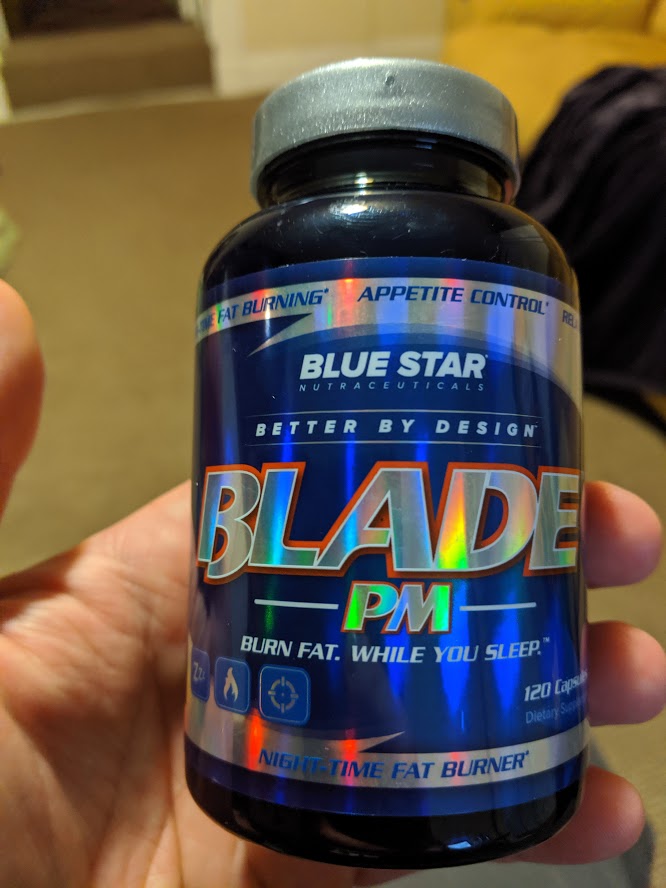 Why I chose this
I suffer from severe Sleep Apnea, so my life is relegated to using a machine to get the best sleep I can. I enjoy taking a Sleep Aid to help me get comfortable and get to sleep at night, and I am always in search of the newer ones to see which ones will truly work the best for me. After winning a tub and running Shake One from Blue Star, I decided to try out another one of their products since I was impressed with Shake One. They were having a sale at the time on their pills, and Blade PM was fairly new, so I figured what the hell, lets see if we can go 2 for 2. On to the meat and potatoes.
Ingredients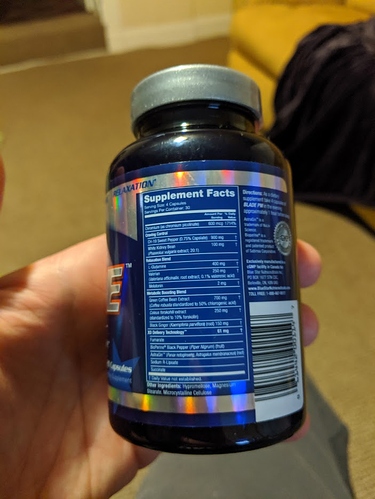 Finding a good label of the picture online is tricky (my only real complaint with Blue Star Neutraceuticals site), so you are stuck with my photo. I am also attaching their White Paper which I appreciate as it does explain the rationale of the product and each ingredient. We have a mostly transparent label here broken down into 4 categories: Craving Control, Relaxation Blend, Metabolic Boosting Blend, and XD Delivery Technology (the only prop blend).
Since I bought this mainly for the sleep aid and typically do not take Fat Burners too often I can only really comment on the Relaxation Blend. This contains 400mg L-Glutamine, 250mg Valerian, and 2mg Melatonin. Alot of times you will see Glutamine used in muscle building products, but here the rationale is because the "body produces glutamic acid from dietary glutamine, which is then used as a precursor to GABA." (White Paper) We all know GABA is commonly found in sleep aids, so a good reason to be included here.
Personally, 2mg of Melatonin is my sweet spot. Once you get to the 3-5mg range for me I start to wake up groggy and I hate it. Sure it is great at putting you to sleep, but who wants to feel like crap in the morning. I am also a fan of Valerian so I like the inclusion here.
Overall, I think its a good host of ingredients with nothing truly wasted that I can see.
Dosing / Pill Size / Taste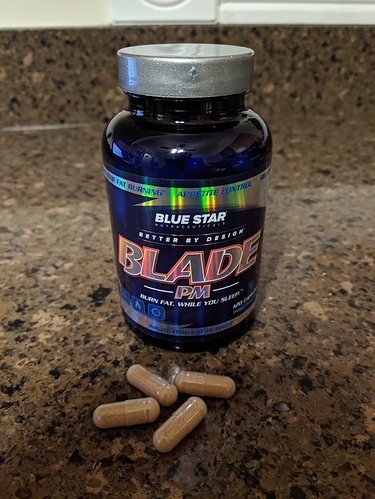 Take 4 pills 60 minutes before sleep as per the label. I kept this on my night stand and took it as I went to bed. The pills were easy to swallow and my only gripe here is that they had a weird taste and smell to them. It is enough to throw you off, but a big swig of water following the pills typically made the taste go away. At times the taste would linger in my throat in a kind of sour type feeling, but would dissipate over the course of 5 minutes at worst. Just a heads up here.
Results
Now for the important part, if you followed my log (DaSlaya Logs Blade PM by Blue Star) you can see the majority of results. I will break this down by section of how I rate the product:
Getting to Sleep: Sure the instructions say to take this 60 minutes before sleep, but almost every time I was out like a light within 30 minutes of taking this. This is great for me because falling asleep is the hardest thing for me for some reason. This stayed consistent throughout the bottle.
Sleep Duration: So this was the best and most interesting aspect of the product for me. Initially I was sleeping around 6 hours and 20 minutes, but it seemed to get better the longer I used this which is literally the exact opposite affect I typically have on sleep aids (and most supps). About a week in I moved up to getting 7.5 hours of sleep and the last two weeks I was averaging 7.5-8 hours of sleep a night which is phenomenal for me. Most of the sleep was uninterrupted, and only ever waking up to real life things like my dog barking or having to go the bathroom.
Upon Waking: I never felt groggy waking up and typically I woke up ready to start my day, indicating that I got some quality sleep. I have since taken a few days off of sleep aids, and started a different one and I can tell ya that I do not wake up nearly as refreshed. Nothing like that feeling of an early wake up and ready to crush your workout!
Fat Burning/Weight Loss: So this was just a bonus for me. The first week on this I was eating right on my normal good diet, and dropped 4 pounds. The week after I dropped 1 pound. Now when I had those weeks of eating like crap I gained some weight right back, but if you stick with a good diet on this you will see some positive effects. I would also wake up fairly hungry too which almost tells me that my metabolism was working during my rest. So not a gimmicky part to sell the product to a bigger market, I truly believe this works for fat loss. However, I was basing this off a scale so it never tells the whole story but I did have to ratchet my belt to the next loophole as my pants were feeling a bit big.
So yeah I had a great run on this with positive sleep and even some possible fat loss results.
Price
Without a sale this is going to run you $69.99 for 120 capsules (30 day supply) which comes out to $2.33 a day, which of course is steep. However, Blue Star seems to have sales a lot and if you snag this up like I did during their 50% pills sale it will save you some money and come out to a fair price. The only place I see this for sale is their site, so just watch for them sales!
Final Thoughts
I am very happy I ran this and this is my new official #1 sleep aid. I really did not think any product was going to beat out Amino PM (besides taste) for sleep results, but yeah Blade PM sure did. I highly recommend you give this a shot if you can because this is a phenomenal product from Blue Star, so I am 2 for 2 on their products. Now to decide which product to target next!! Great job guys!
BlueStar_WhitePaper_A4_BladePM_print.pdf (262.7 KB)