Disclosure for future viewers, I received this tub for free from Muscle Elements in exchange for a 10-day log. Also, I give ME permission to quote parts or all of this for their promotional purposes, that's the point of these isn't it?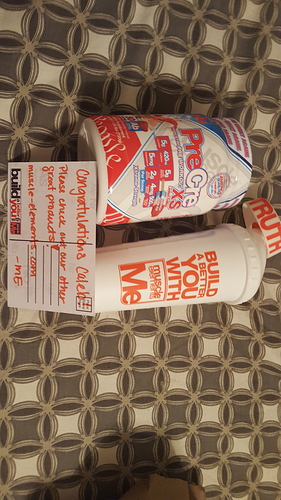 This is the package I received! The pre itself, a remarkably solid shaker (usually company shakers feel super soft and easily deformable, MyProtein–pictured later–being an especially notable offender), a wristband, and a short personalized postcard! ME, y'all know how to make a reindeer feel special.
I got this a few days ago, but this afternoon (2/10/18) was my first time trying it. On the menu was legs, with a squat AMRAP followed by some deadlift assistance work.
As far as mixability, taste, etc: there was a good amount of foaming upon first shaking it, which dissipated after a few moments, but there was some perpetual sediment that wouldn't dissolve, that I'm banking on being the creatine. That stuff just doesn't like water.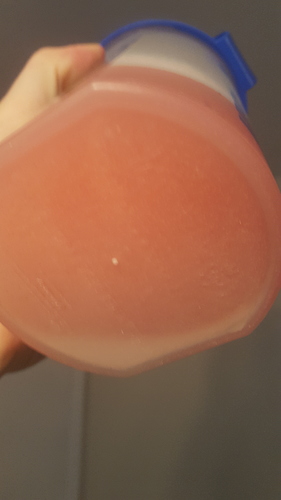 The taste was definitely not what I expect out of a bomb-pop type flavor, but definitely wasn't bad either. Just more of a tutti-fruity, I'd say.
The effects started kicking in within 10-15 minutes, I'd estimate. I drank it, pissed, mixed up my intra, grabbed my gym bag, and walked out to my truck, and as I got in I felt a kick of something, I'm gonna guess the DMAE just based on the sensation. 5 minutes later, the beta-alanine itchy ears started hitting, but the fun stuff didn't happen until later.
Unlike most high-dose BOLUSes of caffeine, this didn't get my heart pounding out of my chest right away, probably due to the multiple types and sources. I got through my squat session, though was disappointed by my AMRAP attempt, I was a few shy of what I'd been aiming for.
So next up was deadlifts. Specifically, I figured I'd do double-paused–right off the floor, and again at the knee. I find that these really tighten up my positioning, and fry my upper back. did 30% of my comp-style max for 10, 45%x5, 52%x5, 65%x5, 52%x5. With each set, I found myself getting more and more hype, and more and more aggressive. In fact, very aggressive. At the risk of TMI, in between sets I was texting my girl what I was gonna do when I got home. I'm gonna go ahead and point at the yohimbine here.
I went to do the 52% for another set of double-pauses, but the aggression took over and I ended up doing comp-style for…10? 15? 20? A lot. I was mad at the bar, I was bored that only half my max was on it, I was mad about my subpar AMRAP, my heart was pounding out of my chest. So I decided to hit heavy. 72% for a triple. 82% for a double. And 92% for a single. Then another. Then another. Then another. Then 104%.
Which was probably too ballsy. I broke it about a centimeter off the floor, held it for a 2-count, and dropped it, seeing stars, my sinuses opening.
I was still hype. I was still ready for more. But I realized I had a lot of coursework to do, which I still haven't gotten done because I've been writing this, and called it a night.
Oh, and far as the pump goes? My quads were swelling before I even started lifting. Agmatine + carbs is apparently pretty fuckin neato.