Has anyone ever dealt with biceps tendinitis? The pic below sums up where I'm feeling pain.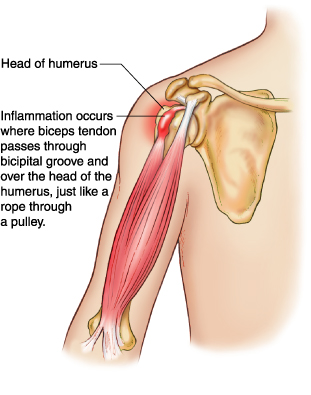 I seem to get this under two circumstances:
High rep overhead presses.
Squatting. This is a weird one, but I think I'm having shoulder mobility issues to the point it's causing a lot of torque on my shoulder, thus a lot of torque on my elbow, just to get under the bar.
I do think a lot of this pain is coming from mobility issues. One thing to point out is the fact that I've been slowly packing on mass. When I was floating around 195lbs, I was fine squatting. Now that I'm around 205, no can do. Is there some sort of build up of something that's causing my terrible mobility? I was fine squatting back in June, but literally can't even do empty bar without this insane pain.
Any suggestions on what I can do here? Would love to squat again.