It's here. This is the product I've been most excited about, for a while now. I love energy drinks and I love carbonated drinks. Sometimes, I don't want the stims associated with such drinks. Xtend is here to save the day! Boy did they hit this out of the park.
Xtend follows the latest Nutrabolt trend for coloring, which is ZERO artificial colors or dyes! Hallelujah!
Labeling:
We know the label doesn't differ much from the Xtend powder. Sub the gram of glutamine for citruline, and that is the only difference! The label packs Xtend's sleek and aesthetic new label and logo.
You can't go wrong with the 2:1 BCAA ratio, at 3500mg/1750mg.
I like it when the color of the flavor is subtlety incorporated onto the can. Similar to C4 carbonated, there is a rim at the top with the flavor's color as well as an image of the flavor itself.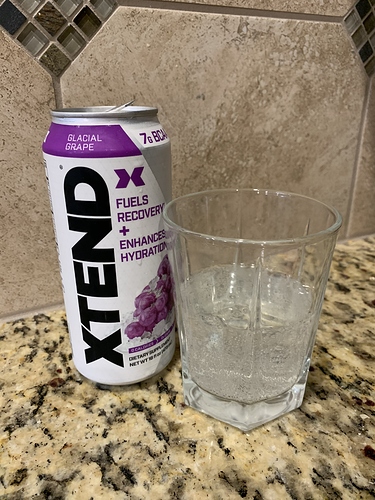 Flavor:
This is where I was surprised. This tastes better than C4 Grape carbonated. This is a sweeter taste with less sourness. It is certainly a more pleasurable drink to sip on if you don't like tart or sour flavor components.
The carbonation tingle compliments the sweet grape flavor extremely well. The two elements work synergistically to form an enjoyable drink experience. If you enjoy carbonated drinks and want a new BCAA experience, this is a MUST BUY, in my opinion.
Conclusion:
I can't wait to try the other flavors. I especially can't wait for the Blood Orange flavor (Lord willing) to make its way into the carbonated version.
Xtend reminds the world that it is king of BCAA products with the latest innovation. One final parting thought, I truly believe this tastes better than BANG. And no tingles or stims! Drink it before bed and sleep like a baby!