So a newer preworkout actually gives the doses of the ingredients in peak 02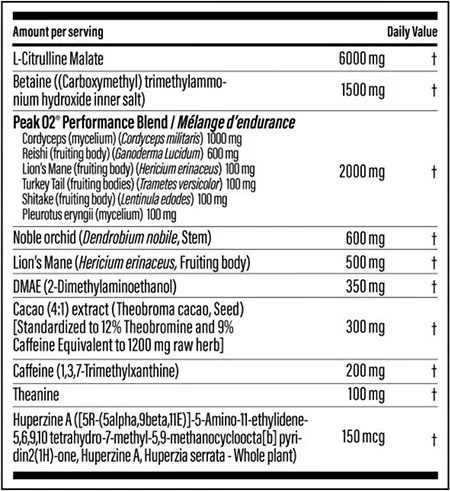 Nutrabolics supernova infinite
Somewhat interesting how low the doses of some of the mushrooms are.
Who knows. I don't understand how they're able to disclose it, but when it comes to adaptogens, we don't realllllly know if there's a synergy, or if high dose of all of them is even a good thing. Some may have better effects at lower doses, where as others are more effective at higher.
I think because this is sold in France. Maybe France has a different supplement legislation than the US
I don't care as much for the individual doses within PeakO2. A 2g dose of PeakO2 works for me. I have to keep some form of it in my pantry now.
With all the details given on this label, why leave out the Cit. Mal. ratio??
Forgive the dumb answer… But probably because cit mal is still technically a singular ingredient for that market.
Maybe, even though we know bonded Cit. Mal. really doesn't exist according to Mark from NutraBio.
It's not that it doesn't exist, to my understanding, it's that it effectively isn't on the market.
Which, maybe it is in France.
Or it's just pointless to use because I believe Mark said it separates once added to water

Does it? From a chem perspective, it's a covalent bond and as such, shouldn't separate in water
Yeah based on my understanding of chemistry that isn't really checking out
Here's the post from Mark from last year
Towards the end, he includes this paragraph: "Let me add some fire to this discussion: reacted CM is a salt that will break down into citrulline and malic acid as soon as you mix it with water. Huh?? that's right, so you are right back where you started had you used the blended version."
Nutrabolics is out of Canada
Came here for the bro science lol
Ha, funnily enough, that was my own thread I started.
Interesting. I didn't think it would be an ionic salt. But, I would also trust Mark far more than my minimal chemistry knowledge
He says that we can't rely on old research because bonded CM is completely different… then says that they're functionally identical anyway because bonded CM immediately breaks down.
I don't get it.