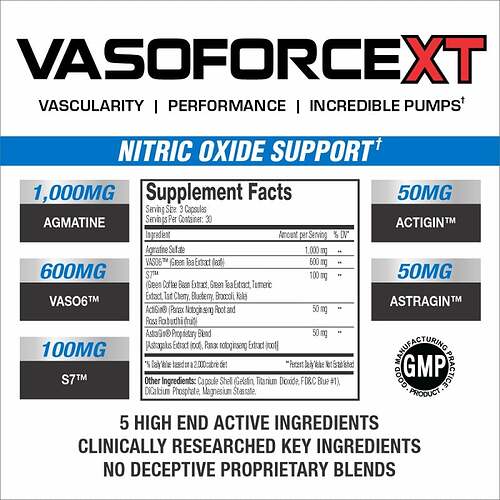 Pumps, Vascularity, Performance, & More!
Nitric Oxide Support​
All-Star Cast of Ingredients!
1,00 mg. – Agmatine
600 mg. – VASO6™
100 mg. – S7™
50 mg. – ActiGin®
50 mg. – AstraGin®
VasoForce XT contains 5 high end active ingredients including clinically researched key ingredients and a massive 600 mg. of Vaso6™. If you're looking for improved pumps, vascularity, nitric oxide production, and performance, meet your new workout partner, VasoForce XT.
VasoForce XT Highlights/Supports:
Incredible Long-Lasting Pumps
Intense Mind-Blowing Vascularity
Enhanced Nitric Oxide Production
Increased Endurance & Performance
Increased Vasodilation & Blood Flow
Improved Nutrient Delivery
Enhanced ATP Production
Clinically Researched Key Ingredients
The new VasoForce XT will be shipping to retailers starting Monday.
The changes from the original VasoForce XT capsules are:
Removed GlycerPump
Increased Agmatine from 500 mg. to 1,000 mg.
Increased S7 from 50 mg. to 100 mg.
Added ActiGin (also known as Senactiv®) at 50 mg.
The reason for removing the GlycerPump was because in some cases it caused softening of the capsules, especially once the seal was opened. Harmless, but it worried some people that weren't familiar with GlycerPump.
Don't worry, for anyone that still wants to use GlycerPump with it, we will have our GlycerPump capsules back in stock within the next week to week and a half.
For a limited time, get VasoForce XT for 33.74 ea. (25% off) by using code: vasoforcext25