Big shoutout to Joe ( @SNSJS ) for reaching out and offering to send me some samples of their recently released Thermagize XT. Not only was Joe very helpful - but after a small labeling mishap, the owner of SNS himself, Steve ( @SNS8778 ) reached out to me personally and offered to give me a full bottle on the house.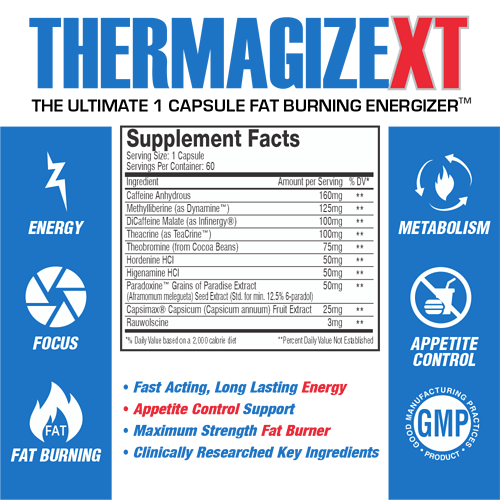 I was sent 6 capsules in a little baggie, and as seen above, the serving size is just one capsule. It's important to note that this product is very stimulating and should not be used by those sensitive to stimulants. There's about ~230mg of total caffeine, mixed with various other stimulants including the nice combination of dynamine + theacrine.
The dosing of Thermagize XT that I used was one capsule in the morning, around 6:30 AM along with a cup of coffee. This KNOCKED me off my ass for the next five hours… but in a good way. Although I didn't notice it the first time around, I really started to sweat around my 3rd of 4th days of dosing which is to be attributed to the Paradoxine. I'm a fan of sweating, especially when doing cardio, so I thought this was excellent and made me feel like I was swimming when doing cardio.
The combination of stimulation + thermogenesis was very impressive to me, as well as the comprehensive formula included in just a one-capsule dose. I enjoyed these samples so much so that I actually purchased a bottle and have been using a capsule a day and will continue to do so until I'm finished dieting. I highly recommend Thermagize XT to those looking for a high-energy fat burner product that doesn't need to be be dosed frequently!
[/center]