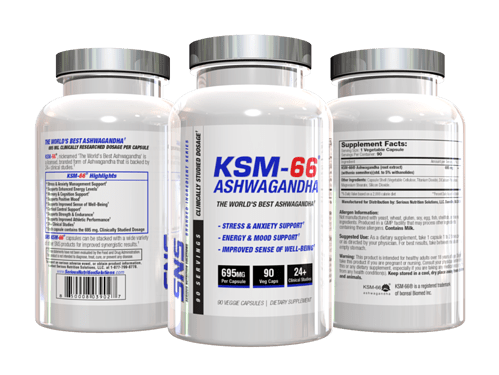 KSM-66®, nicknamed 'The World's Best Ashwagandha', is a licensed, branded form of Ashwagandha that is backed by 24+ clinical studies.
Ashwagandha has been one of the most important and widely used herbs in Ayurvedic medicine for centuries and is one of the hottest herbs on the market today (and for good reason).
KSM-66® Highlights/Supports:
Energy & Positive Mood*
Enhanced Memory & Cognitive Function*
Stress & Anxiety Management*
Improved Sense of Well-Being*
Helps Reduce Cortisol Levels*
Helps Reduce Stress-Related Food Cravings*
Promotes Lean Muscle, Strength, Endurance, & Recovery*
Increases in Testosterone Levels*
Improved Athletic Performance*
24+ Clinical Studies*
Each capsule contains the 695 mg. Clinically Studied Dosage*
See product link for full details.
SNS KSM-66 - 90 Vcaps - 695 mg. per cap
Use code snsksm6625 from now until June 30th to save an extra 25% off on this exciting new release. https://seriousnutritionsolutions.com/product/ksm-66-695-mg-90-caps/?fbclid=IwAR01xoPba4GDVHHffqfl9Ywj3C6Tv7lHEAyBcR-C5CoiSuMjXDA9auzzXdA