RXS Radiate+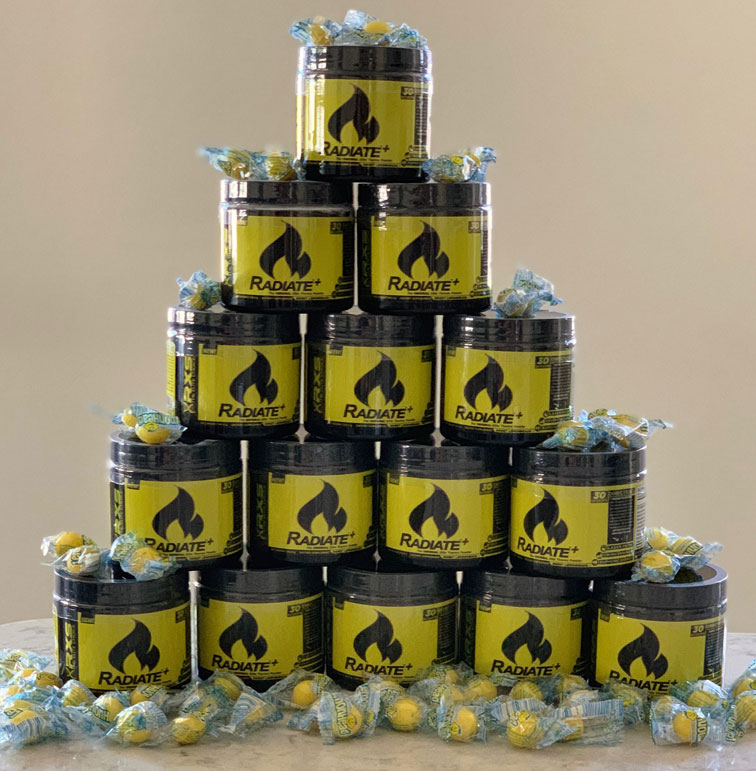 Taste
Sweet Lemonheads – The Sour Lemonheads in Radiate+ is great for a person who is not a big lemon guy. The density of the flavor is on the bold side, and it is not extremely sweet or luscious like some lemon's can be. The zest lacks in the flavor, but I do not think the company was going for an overpowering flavor that may turn off consumers. If you do dilute the flavor (over 12-16oz of water per scoop) you may find this nice to sip on throughout the day. This packs a punch, so if you love lemonade you will love this flavor.
Mixability
Radiate is a complex thermogenic fat burning powder. I mixed one scoop in 8-10oz of water, which had no issues with dissolving. There was a touch of foam and some particles at first, but those quickly went away. For those who like to use this first thing in the morning, or want to take it on the go I would mix it the night before so its cold. When not at room temperature the flavor is better and there will be nothing left in your shaker/water bottle. You do not even need a blender ball to break up this formula. This shows how fine the powder truly is.
Formula
850mg of Taurine to aid performance and improve endurance
150mg KSM-66 (Ashwagandha), cortisol controller to improve mood and decrease stress.
50mg Mucuna Pruriens cognitive function, better mood, more energy, greater focus
200mg of caffeine and 50mg of Di-Caffeine Malate (Stimulant)
100mg of DMHA enhancing dopamine and noradrenaline production
500mg of Choline to enhance the mind-muscle connection, improve learning, and enhance focus
50mg L-Theanine, Theobromine, and Higenamine for mental cognition
75mg Eria Jarensis Extract euphoric feeling and focus
30mg Hordenine nootropic to improve focus.
25mg Pro-GBB, which converts into L-Carnitine to induce sweating and increase thermogenesis.
25mg Naringin, 7.5mg Noopept, and 1.5mg Alpha-Yohimbine – Aid weight management & fat-loss, and target stubborn fat
2.5mg Bioperine to increase the uptake of all the nutrients
Cost
The intro sale was $27.99 a unit plus S&H. This is a brand new and upgraded product with a transparent label. For those folks who want a very well dosed, long-lasting energy, and appetite suppressing thermo look no further. Radiate+ is a big step up from the past and is here to deliver what you get per serving. When not on sale tubs are around $45 direct. Per serving may be too expensive for most on the market for a powdered thermo.
Pro's
Long lasting energy

Strong stimulant effect

Increased sweating

Curbs appetite
Con's
Removal of Grains of Paradise from OG Formula

Cost when not on sale