Yes, this preworkout is actually called Cocaine.
Gave this bad boy a test this week for my powerlifting, and I'd say it was a solid addition to my usual lineup. The company has been around since 2016, and is based out of Tampa, Florida. I've been meaning to try this pre for awhile so it was good to sample it.
Profile: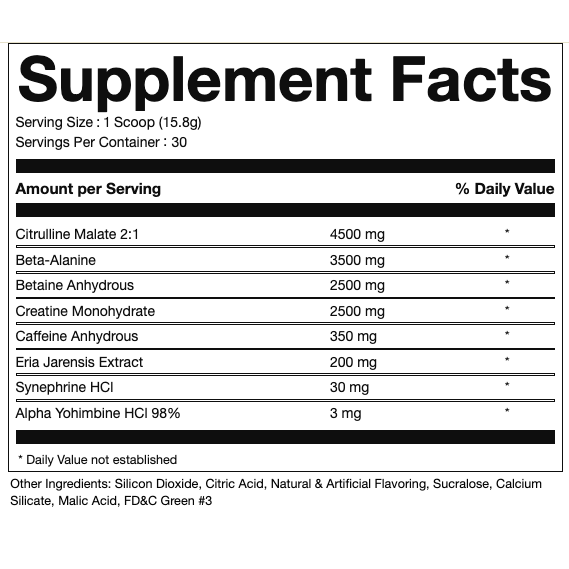 Sitting a little over 13 grams of actives, this is a fairly straightforward, but well dosed pre. I quite like the caffeine amount, but I'll add a cup of coffee if it's a crazy heavy day. But, 350-450 is my usual sweet area, and this is right at the lower end of that. Thankfully, it comes in with some other stims as well. I haven't had any exotics for awhile up until trying this so it was a nice change of pace to get the stronger stims like Synephrine and Alpha Y. Alpha Y is coming in at 3mg which is much lower than I can tolerate, while still being effective, since a lot of people ready adversely to this. I haven't seen many formulas rocking AY in awhile so glad to see it in here. And of course, a 200mg dose of Eria is no slouch either. Without a doubt, this preworkout shines the most in the stim department. Simple & effective.
For ergogenics, you get 2.5g of both creatine & betaine. Full clinical betaine dose, half of my usual creatine dose, but I take that bulk anyway, so extra creatine is just a bonus. I much prefer full betaine doses. Beta alanine is a hefty 3.5g, so expect some serious tingles. Lastly, 2:1 citrulline malate really is nothing crazy. Gives a little bit of a boost in pump, but takes a backseat in this formula in my opinion.
Mixability: Absolutely no issues, 10oz of water all around, foamed some, but settled quickly. No particulates settled at the bottom.
Flavors: Got to try all three flavors, and gave some samples to my coach/training partner, Jared, as well. I drink my pre's with water, he mixes his with Glacier Cherry Gatorade all the time, so bear that in mind.
Pink Lemonade: 10/10 Stellar flavor, absolutely no complaints. I could sip this all day, and was an actual treat to drink with this nice weather. Same thoughts from Jared. Easily the best flavor
Watermelon: From me, 8/10, as I'm not a big watermelon fan. Was a solid flavor though, and a watermelon fan would enjoy. Slight weird aftertaste I can't quite place.
Jared's thoughts were a 9/10, he felt the flavor was awesome in Gatorade, and he's also a bigger watermelon fan.
Cotton Candy: 8/10 Again, not a huge cotton candy fan, but I can't deny it's a good flavoring system, so same as watermelon, I bet someone who likes cotton candy flavoring will love this. 6/10 in the Gatorade, not a good combo.
Wrapping up, I gotta say I was pleasantly surprised. This is a solid preworkout if your main goal is performance enhancing. I would undoubtedly use this in my powerlifting training, but maybe not my old bodybuilding training when I really went for pumps. But after all, I'm glad stims are the focus for a preworkout named Cocaine.
Use code: GETPLOWED for 10% off and free shipping! https://www.purecutsupps.com/