Primeval Labs Mega Pre Review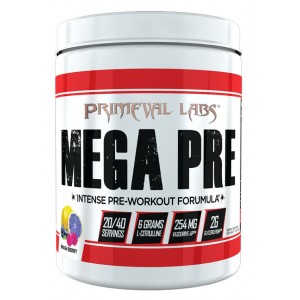 Taste
Pineapple Mango - - I have had a few mango-flavored products on the market and Scivation Xtend/Xtend Perform has always been my favorite. Pineapple Mango is very bold mango flavors out of the get go when it hits your taste buds. The density of the flavor is then rushed with a pineapple aftertaste that is pure. The mango flavor congeals well with the purity of the pineapple to make this a very refreshing flavor. I thought there would be a dominating flavor between the two, but all in all it was very well complimented and you could get a strong sense of each flavor.
Mixability
Sometimes pump products that contain ingredients that attract heat and moisture can clump very easy. To my surprise when I mixed up mega pre I had no issues. I used 2 scoops (1 serving) in 14-16oz of water. I prefer to dilute my supplements and I still found the flavor to be strong and refreshing. If you were to use 8-10oz as suggested on the label you should have no problems. I also mix mine the night before when I train early in the AM so that leaves no floaties in my shaker bottle.
Formula
Per Scoop:
5 Calories
1g Carb
3g Citrulline (Pump / Prevent Lactic Acid Build up / Performance)
1.5 Betaine (Performance, Strength, Power)
1g D-Ribose (recovery, performance, increase ATP storage)
1g Glycerol (Pump)
500mg Choline (Nootropic to Aid focus)
150mg L-Norvaline (Aid Pump)
127mg VasoDrive-AP (increase blood flow and pumps)
50mcg Toothed Clubmoss (nootropic to aid focus)
Cost
$49.99 for 40 Scoops, but the intro price is BOGO (Buy 1 Get 1 Free). Therefore you are getting 80 scoops or 40 servings for $50. For just under $1 a serving at the BOGO price this is a very cost effective non-stimulant pre-workout. At the regular price you will get 20 servings for $50, which is a little over $2 a serving. For those who train 4-5x a week that will last you one month, which is a hefty price. If you can find a good discount on this product I would pull the trigger based of the open label and well dosed ingredients it provides.