Alright PricePlow nation… I've made reviews and supported products but I've found something new you all want to try if you can. Something unique. Something delicious and clean. The best part is, it's from a brand I have never tried until today. For those who aren't familiar with the brand, let me introduce you to Perfect Sports!
Who is Perfect Sports?
Perfect Sports is a Canadian based supplement company. Their product offering isn't as robust as some other companies, but what skus they do offer are phenomenal and worth trying. Perfect Sports has some great protein options including a New Zealand grassfed whey isolate, called Diesel. The Creed is still a whey protein isolate, but the difference between it an Diesel is that it is not used with grassfed New Zealand Whey. The company has some great Fat Burner and Nootropic options, along with a few other standard skus.
Perfect Sports has some crazy flavors for their protein isolate "Creed," including: Cocoa Caramel, Maple Waffle, S'mores Sensation, Vanilla Cupcake, Triple Rich Dark Chocolate, and Mochaccino. For Diesel, the protein flavors are similar to Creed, but there is a Chocolate Banana flavor called "Chocolate Monkey." I tested this flavor too and will have another review post up shortly.
The star of this review is Creed, a whey isolate with 26g of protein, 2g of carbs and 1g of fat - which offers competitive macros for an isolate. What separates Creed from the pack, is Perfect Sports processes its whey at 4 degrees Celsius, to ensure the bioavailability of the protein molecules are not denatured. This is common with protein that is processed via Ion-Exchange or protein processed at high temperatures.
As we know, protein cooked or processed at high temperature can denature the amino acids and "kill" some of their molecular integrity. The cold filtration process ensures the amino ratio remains as it was when the whey was collected, giving us a true and genuine protein quality. This way, when the label states you get 26g of protein, you can be confident you're truly getting 26g of protein. It likely goes without saying, but Creed is lactose free, gluten free, and soy/nut free.
Creed exclusively utilizes the natural sweetener, Stevia. You wouldn't guess it though, because Creed tastes incredible. I was fairly amazed by how impressed I was from the first sip. Normally it takes me time to warm up to a new flavor - but Creed was great from the get-go.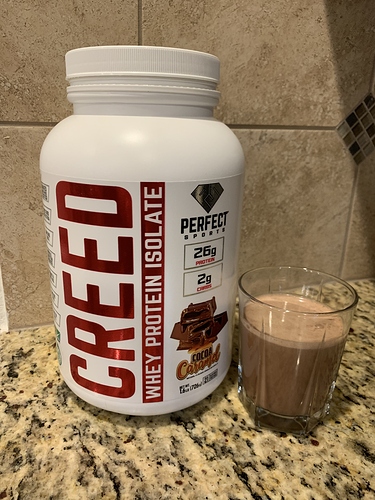 Right off the bat, Creed hits you in the nose with a strong cocoa scent. It's an overpowering and rich chocolate that makes you feel like you're standing over a chocolate cake, but there is a hint of that altered chemical smell. It's not bad nor does it affect the experience while sipping the shake, but it should be noted.
Taste:
The taste is so unique. I imagined the caramel of a Twix candy bar combined with a bold molten cocoa when I drank this flavor… the sweetness is so prevalent that there is no bitterness I could notice from the Stevia. This is odd, because most stevia sweetened products will have a bitter sweet kick aftertaste.
All in all, the rich cocoa compliments the sweet caramel tones and makes this isolate one of the most flavorful isolates I have ever had. I would rank this flavor alongside Xtend Chocolate Lava Cake, as my favorite chocolate based isolates.
Mixability:
Creed mixes incredibly well. No blender ball and 5 strong shakes with the recommend water dosage (1/2 cup for 1 scoop). I used 1.5 scoops and 9oz of water, which is higher than the recommended water dose. I was pleasantly surprised how flavorful the shake was for using an additional 1-2 oz of water, above the recommended dose. This tells me it would taste even better at the right liquid to powder ratio.
No clumps and no chunks, and no sticky pieces to the side of the shaker cup. I tried it again with almond milk and as you may imagine, it tasted significantly better and creamier. For a chocolate-caramel flavor, the creamier texture really drives home the flavor that Perfect Sports was going for.
Bonus Point:
Additionally, all of the companies products have a plastic sealed tub. I've never seen a company do this with supplements. Notice the torn off plastic seal… this is quality control to the max. No broken seals and no risk of contamination.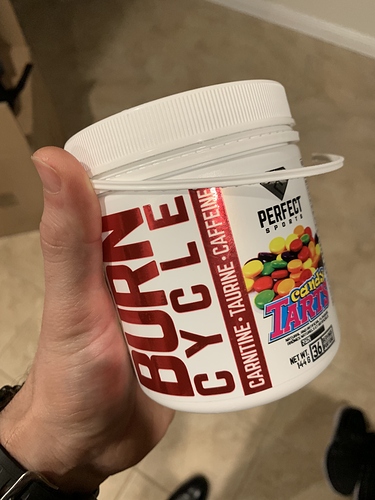 Take Home:
All in all, if you love deep chocolate flavors and have a sweet tooth, this is the protein you have to try! I'm very impressed when a new company can step up and deliver a one of a kind experience. Perfect Sports took a shot at saturated market and hit a homerun with Creed. This is absolutely approved by me and I can't wait to try the S'Mores Sensation and Maple flavors.