Again, thank you to the folks over at @NutraBio for sending these out.
First up is the blueberry muffin flavor. Mixed with six ounces (per the package instructions) of water in a blender bottle with no blender ball. Attached is a photo taken right after shaking for approximately ten seconds.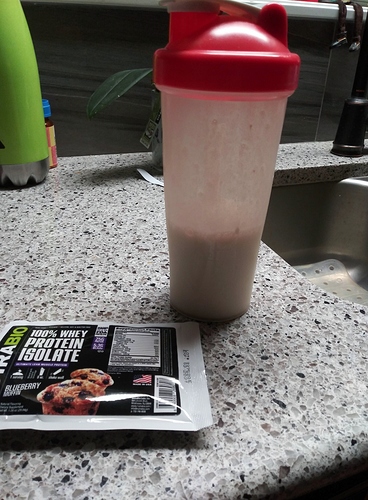 Only slight foaming occurred and some film was leftover on the sides of the shaker. That eventually made its way down when left to sit. No large clumps left over after mixing while not using a blender ball.
As for taste, not much to report here. Only the slightest of blueberry flavor was noticed over a standard vanilla or unflavored whey protein. The smell was actually more distinct than the flavor.
Easy to drink and no side effects or stomach discomfort when taken on an empty stomach. Overall, a top notch ingredient profile with peace of mind that no funny business is happening during manufacturing or with the macros but nothing to write home about when it comes to the flavor profile.