NutraBio Pre/Intra Blast - Dragonfruit Candy Review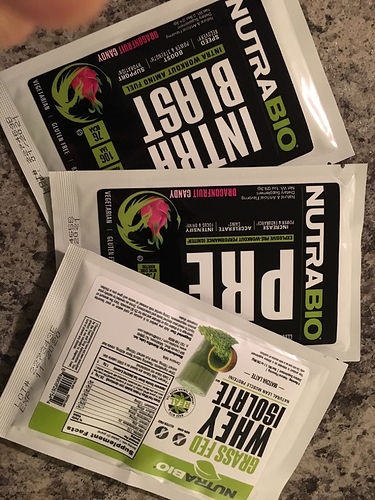 Sorry for the delay in posting this review. I was sick when I first got these in the mail and took a few days off from the gym and then we got a lot of snow over the weekend but I was finally able to use them this morning during my back/triceps workout.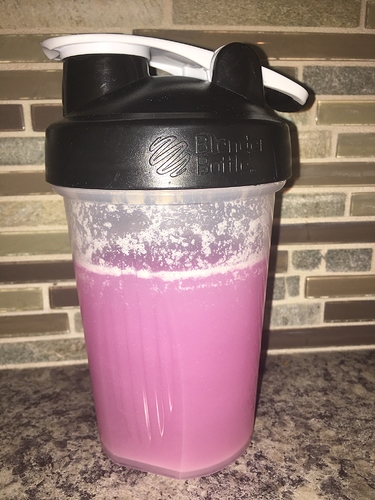 First off is the Pre, as seen above. This pic was taken right after shaking the bottle for 15-20 seconds, which is why you see some settled at the bottom. However, I left it in the fridge overnight to help the mixability and there was very little left floating around once I re-shook it up in the morning before my workout. As for the taste, I mixed it with 10 oz of water which was the lower end of water recommended on the label, and I must say it was quite strong and a little bitter for my taste. It was fruity at first but immediately was followed with a sour aftertaste. Some of you may like this strength of flavor but I was a little overwhelmed. As for the effects, I definitely didn't notice an overwhelming burst of energy considering the amount of caffeine, but I did notice lasting energy throughout my workout, which I definitely prefer. Also, there was no crash after my workout, so I didn't have to reach for a cup of coffee shortly after like I normally do with some pre-workouts. I really liked this product and would take again for sure, probably with just more water next time.
Now for the Intra Blast. For this one, I mixed it with more water than the Pre, using about 16 oz of water this time. With this amount of water, the fruity/sweet aspect of the flavor was much more prevalent than the sour aftertaste compared to the pre-workout. It may have been due to the amount of water used or just the difference in products but either way, this was much more enjoyable to sip on throughout my workout. It's hard to tell the effects after just one use, but I really like the transparency and ingredient list for the Intra Blast. May have to consider purchasing some more soon.
Thanks @Kon_Rock for the opportunity to try more exciting and effective products from @NutraBio! Let me know if you guys have any questions for me.