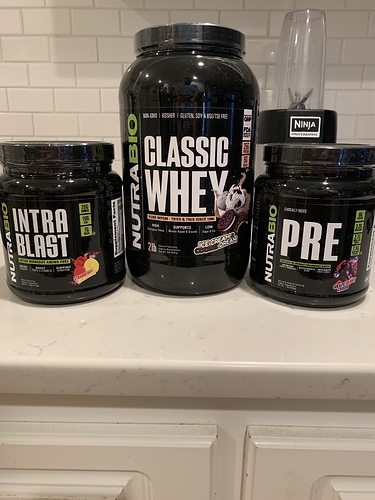 I took advantage of the Memorial Day sale to try out a couple of their newer flavors that I have been eyeing, and figured I would give a quick flavor review for anyone that may be interested in giving any of these a go.
First up is the Ice Cream Cookie Dream Classic Whey. Honesty, protein flavoring has been my only real issue with Nutrabio. I don't remember enjoying a single protein flavor from them, including the two I tried most recently, cinnamon doughnut and pancakes and syrup. That being said, this new take on cookies and cream is ridiculously good. I mixed it with 6 oz of almond milk (as I do all of my shakes) and the texture is spot on, not too thick, not too thin. It is definitely a vanilla base (which I prefer) with the perfect amount chocolate cookie flavor to remind you it's a cookies and cream. I believe Mike said in his review it reminded him of Cookie Crisp cereal and I think that is pretty spot on.
I wanted to keep these fairly short, so in conclusion I would strongly recommend this flavor if you are a cookies and cream fan and I'll definitely purchase this flavor again (this coming from someone who has strongly disliked Nutrabio protein flavors in the past).
Tomorrow is an off day for me- so I won't get to try the flavors of pre and intra blast until Friday and I'll report back then.