Nutrabio Natural Pre Review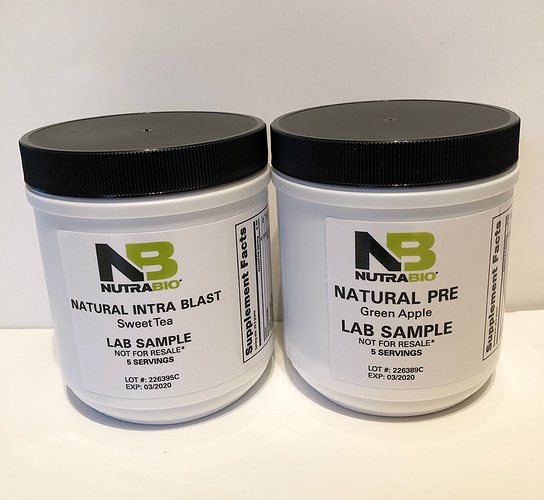 Taste
Green Apple – Being this a natural product the flavoring of the green apple was superb. At no point do you get a sweet taste due to this not having artificial sweeteners, but you get a very mild and refreshing apple flavor. It reminded me of Green Apple xtend at first sip with an aftertaste similar to Animal Fury Green Apple which has a bit of tart to it. By no means will this taste like a granny smith's apple or a very ripe and sweet apple, but Nutrabio did a fantastic job on getting a great green apple flavored from their formula.
Mixability
I used 12-14oz of water and 1 scoop to mix the pre-workout. Usually with a larger scoop size there is a higher possibility of clumping and particles floating around after shaking. The liquid did start to foam, which died down after about 5 minutes. What I did do to help combat this was mix the pre-workout the night before and leave in my fridge. Upon waking there was no clumping, no particles left at the bottom of the shaker and it mixed flawlessly. If you mix this just before you workout expect to see some foam or some particles floating around your shaker cup due to the large serving size of raws.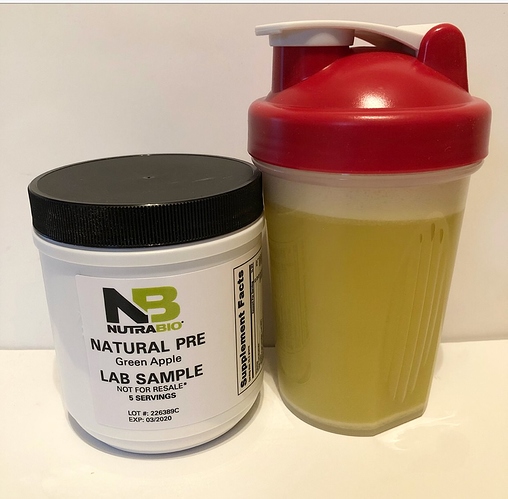 Formula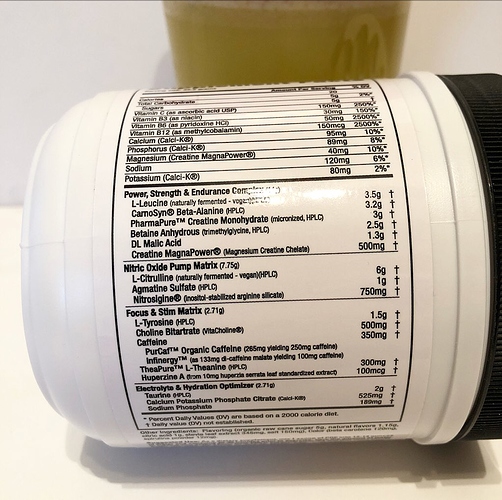 Per Scoop:
Electrolytes (Performance/Endurance)
3.5 Leucine (Full Dose to trigger MPS)
3.2g Beta-Alanine (Full Dose for Performance/Endurance)
3g Creatine Mono (Enough to saturate ATP Levels)
2.5g Betaine (Clinical dosing for performance, endurance, strength)
6g L-Citrulline (Full Dose for Pumps, prevent lactic acid build up)
1g Agmatine (Pump/Nutrient Partitioning)
750mg Nitrosigine (Pump, Enhance Bloodflow)
1.5g L Tyrosine (Mood/Focus)
500mg Choline (Mood/Focus)
350mg Caffeine (250mg and 100mg from Infinergy)
300mg L-Theanine (Nootropic for Mood/Energy)
100mcg Huperzine A (Nootropic for Mood/Energy)
Cost
You are getting a 28g Serving per scoop at around $2 a serving. Yes it is $40 for 20 servings of a pre-workout which may scare some people, but lets put into the big picture what you are getting. Try making this pre on your own and include the flavoring they did. If you value a quality product you are getting what you pay for.
Workout Reaction:
On days I train fasted I will take pre's upon waking, but in this case I did train in the afternoon so my setup went as follows.
Pre-workout meal 90 minutes prior (50g Protein, 50g Protein, 10g Fat)
Nutrabio Pre 30 minutes prior to training.
The Stims were present, but the best part I loved about this pre-workout is you never felt overstimmed ever. Since there are so many nootropics added into the formula the energy is so smooth that it lasted me upward to 4 hours in length well past the workout. As you continue to workout the energy builds and continues to prolong the more sets and reps you knock out. There is a massive dose of Citrulline, Agmatine, and nitrosigine which help in the overall pump aspect. Only 2-3 working sets into my workout I could feel my skin start to tighten, and the density of my veins pop out of my skin since I am naturally lean in my legs and arms. My cross striations in my legs looked sharper and held a nasty pump throughout a leg workout. Even when I was holding Dumbbells or 405 on my back for squats I could feel my forearms start to get a pump. Overall Nutrabio pre is one of my favorites on the market, and has been since I got to beta-test the original version (not natural). It only took a few workouts of the old stuff to realize how potent this pre-workout is when it comes to pumps, energy, and focus.