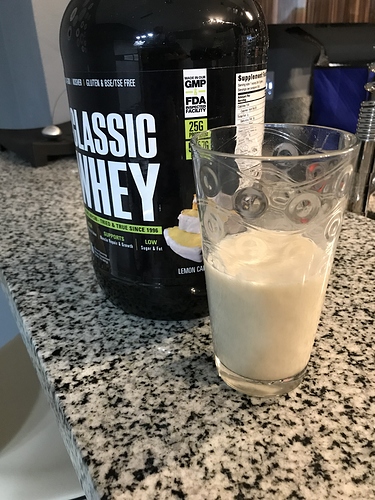 This is the first lemon protein I've tried, so didn't know what to expect. I usually stick PES Select, since I've found them to be good on value as well as taste. Full disclosure, I do
have a sweet though, so if you don't keep in mind we might not have the same preference.
Taste:
7 out of 10
I would say that the taste is resembles more of a lemon tart than lemon cake, at least imo. The flavor wasn't bad actually, I just wish it was more instense/stronger. I tried it with both water and milk(better) and it was a very mild flavor with both. I added stevia to it and that did help bring out the flavor a bit more.
Mixability:
10 out of 10
No issues here, blended very easily with my shaker cup. No clumps or anything like that.
Value:
6.5 out of 10
$32.99 plus shipping, which I'm sure is more than most are use to paying for a 2 pounder. I would say to keep in mind that you're getting a high quality wpc80 with a extremely open label.
Overall:
7 out 10
Maybe this flavor was tailored to those with a more sensitive palette. Like I mentioned before, I do like my protein shakes on the sweeter side, so there might be another flavor that might suit me.
PS: No GI issues, so that's always a plus