Anyone ever tried this protein? Curious to hear any feedback.
If you don't already follow, reach out to Justin Hall of Supplement Snoop on IG. He has had a few flavors IIRC.
i personally haven't but have a few friends who have and they really liked it!.. heard great things about the brand and their other supplements though
Feedback is hit or miss
Most who use it enjoy it, but the price tag is hefty.
I personally have not.
Flavor is hit or miss
most formulas are stacked
Quality assurance seems very high, but they use questionable labs.
Absolutely loved it! Anything Ben comes up with, I'll support
$48 for a 3lb tub isn't a great deal to me tbh
I can get 4lb PES select cheaper
Iso100 cheaper
And I could list another dozen brands who have great products and flavoring for cheaper
Again it's all a personal preference. I've seen too many hit or miss reviews to invest in it
Don't think Morphogen is going for deals. Never seen them run a sale, though I think there are coupon codes
I support their formulas. I don't know if it's really efficient, I'm more interested in their health supps
I've had the caramel cookie which is great. The maple cream donut is pretty good as well. The one that threw me for a loop was the PB&J. They have quite a few but the most popular ones seem to be the Red Velvet and caramel cookie is by far the one most talked about
It's unique. Their IG has 300 followers, so I'm not sure how big they are.
I was looking at their skus online. Their non-stim pre has a very solid looking profile. Problem is, everything is $48.00+…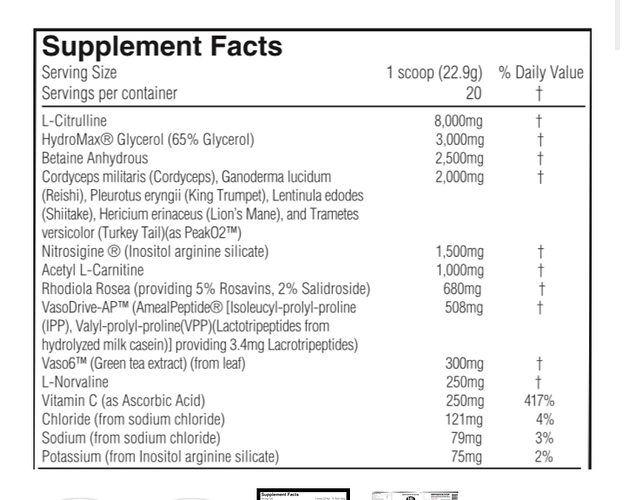 Datas10 or Data10 is Austin Stouts
that product is what 48 bucks really gets you without sponsorships, distribution partnerships, digital advertising, etc built in. Ben is not making the margins that even NutraBio makes.
Question is, do you really need all those ingredients?
I suspect on many products there is a level of diminishing returns