Credit to @Dougefresh93 for the hook up here. You've got some stuff coming your way Doug.
I have been very eager to give this product a go, because it offers a great alternative to dairy/whey based protein supplementation. In my opinion, I think a whole food based protein source is superior to whey, but I also prefer to keep my dairy intake to as little as possible, outside of a cheesy chest meat.
We all know egg whites are one of the higher quality protein sources we can consume, and it's nice to see an affordable product compared to the joke that is MuscleEgg.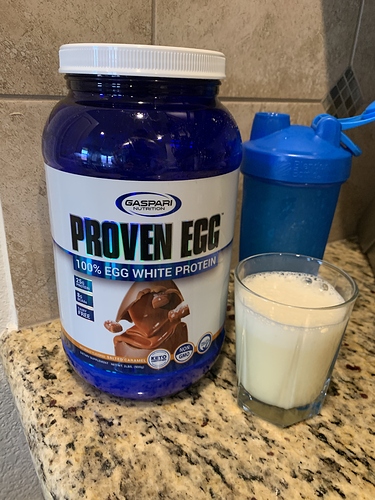 Doug sent me chocolate and salted caramel. As you can see in the photo, this flavor is salted caramel. I tried the chocolate too and actually prefer it, but they are both very phenomenal in terms of taste. My unbiased opinion is that this is a top of class tasting product, regardless of my affection for Ghost and Xtend. Most of you know I loved Gaspari's precision protein blueberry muffin, back when it was actually Gaspari's. Proven Egg's taste certainly met that high ceiling and the standard I have come to expect.
The consistency of Proven Egg mixes thicker in my opinion. It's nice to find a protein powder that mixes best on the high end of recommended liquid. I prefer more volume in my protein shake, so 8-10oz is much more enjoyable than 5-6oz, in my opinion, because I enjoy sipping on the sweet treat. 5-6oz is just gone too quickly for me to truly enjoy it.
Further, Gaspari packed in an amazing taste for some great macros. 110 calories, 25g of protein, 1-2g of carbs and 0g of fat… this is one of the cleaner protein supplements you will find with fantastic taste. The salted caramel flavor packs a salty/sweet contrast that reminds me of caramel corn or chocolate covered pretzels. The contrast is so perfectly balanced, I felt like I was enjoying a savory and sweet treat simultaneously. There is a slight foaming that you won't get with whey isolates, but it's worth the trade off for having a super high quality protein source. The foaming does subside after a minute or two.
Even with whey isolates, I notice a slight bloat in my gut. Whey concentrate will absolutely give me a bloated gut (be it only for 30min or so). For anyone with lactose issues, or someone who wants to try a new protein source for whatever reason, please give Proven Egg a shot.
Proven Egg automatically vaults into my top 3 recommend protein powders because it is a perfect fit for anyone who can't handle dairy, and because it's egg white based, it can be utilized as a true meal replacement.
Well done Gaspari, @Dougefresh93 and @GaspariDan - I'm very impressed with this product offering and can't wait to try some new flavors when/if they come to market!