Grenade Carb Killa Brownie Review
Taste
Fudge Brownie – Just from opening the pack the aroma of fudge and milk chocolate is strong. Taking my first bite the brownie is extremely soft and can be punctured with your finger. The bar is composed of a soft center, thick milk chocolate layer, and a rich frosted topping. Scattered throughout the bar are little pieces of walnuts, which give it this treat a crunchy compliment. The flavoring composed to a brownie is very well done as the fudge and milk chocolate layers combine perfectly. What I like best is how you get a luscious touch of sweetness in the aftertaste to take the milk chocolate to another level. Personally the flavoring on these are fantastic, and if you want a great protein snack to curb your sweet tooth these will get the job done. I like these better then the fudge brownie grenade bars when it comes to taste.
Texture
Out of the wrapper the bar is extremely soft which is what you would expect from a brownie. Both the top and bottom layer are composed of the same texture even though they are flavored differently to a small degree. The added walnuts give this a nice bite to make it a well-rounded fudge brownie you would buy at a bakery. This is not a protein snack you will have to throw into a microwave to enjoy. Some bars and cookies on the market are hard and rough in texture this is a complete 180, which makes it enjoyable right out of the wrapper.
Formula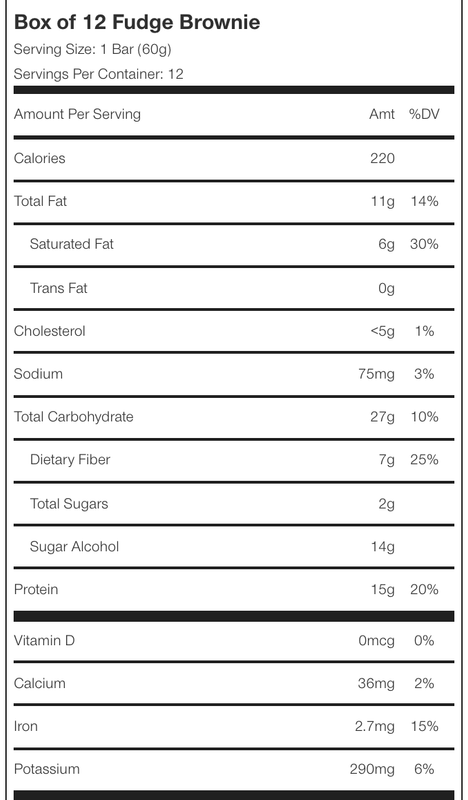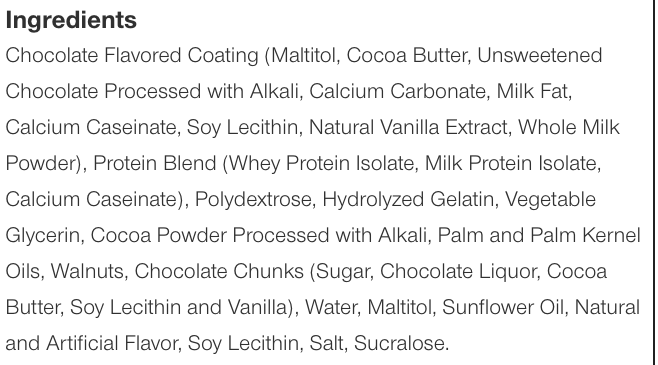 220 Calories
11g Fat
27g Carbs
15g Protein
7g Fiber
14g Sugar Alcohols
The Macro breakdown is not bad on these bars. Most bars are around the 20-25g protein range which this brownie falls short on. The fat and carb macros make this a well-rounded MRP brownie. Personally the biggest downside is the large amount of sugar alcohols, which can cause a lot of digestion and bloating issues. For those who do not have a steel stomach I would suggest staying away because it can sit very heavy. Overall it's a decent breakdown, but I would prefer to see the protein intake a touch higher for a protein snack.
Cost
For 12 brownies I am seeing around $26 for a box. If you want to crunch numbers that amounts to $2.10 per protein brownie. Granted this is a new product on the market, so there will be sales to have them for cheaper. Considering how well this is flavored I can see this being a hit. I would personally invest in these if the sugar alcohols were lower (since they do not agree with me). I foresee these selling well once more consumers get the opportunity to try a sample or go into buying a box blind. If you were a fan of the fudge brownie grenade bar this brownie will be a worthy investment. More retailers should be picking these up in the near future, so keep your eyes peeled.