Ghost Energy Orange Cream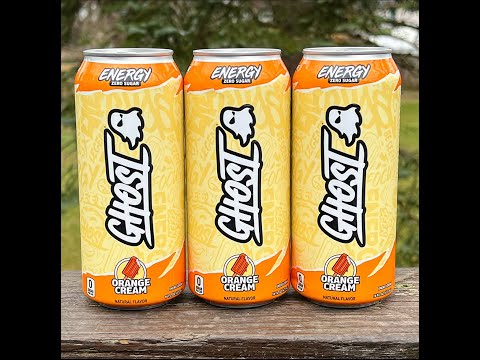 Orange Cream - The flavor is a pleasantly accurate recreation of an orange creamsicle mixture into a carbonated beverage. It's got some sweetness to it, without being overwhelming, and manages to nail the creamy flavor of the beloved summer treat. It tastes more in line with a cream soda, with the proper amount of carbonation. The last piece to the puzzle is the backend vanilla flavor to round out the creamsicle flavor. Ghost always finds a way to make a flavor stand out and be unique. This is just another example of how the brand can execute flavors.
Formula:
V2 Ghost Energy Changes:
Dropped ALCAR for Carnipure LCLT (ALCAR is not stable in liquid solutions for long periods of time)
Changed sources of B Vitamin's
Dropped Thiamin to improve the flavor
200mg Natural Caffeine
1g Taurine (Hydration & Endurance Booster)
1g L-Carnitine L-Tartrate (Improve Metabolism, Recovery & Natural Energy)
150mg Alpha-GPC (Cognitive booster)
100mg NeuroFactor (Brain health and function)
25mg Astragin (Improve absorption of ingredients)
Ghost energy provides a fully transparent label
Ghost exclusively partnered with Anheuser-Busch to manufacture and distribute ready-to-drink products.
Launch:
· Secure a Can campaign coming soon
Stay tuned to

@GhostEnergy

on Instagram for future details.
· Cans will roll out in stores after the Secure a Can campaign.