Ghost Burn Black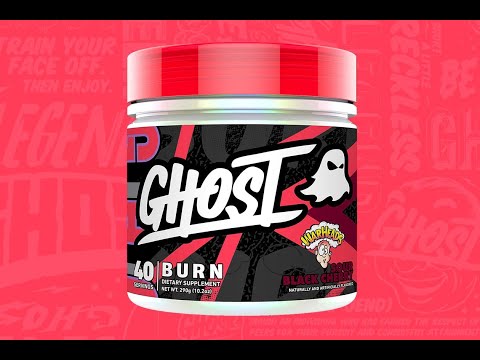 Taste
Sour Black Cherry – Sour Black Cherry is an old Legend flavor that is being returned, Burn Black. The hybrid sour warhead candy meets a sweet black cherry flavor. The sour hits your tastebuds right away as the backend flavor provides a dense cherry aspect that truly shines. If you had the OG legend flavor this is just as good because Ghost removed the Bioperine which may provide a bit of a bold kick in the backend to the Burn Black formula. Overall, this is a very smooth and rich flavor that packs a punch.
Mixability
Ghost Burn Black mixes with ease. I used around 10-12oz of water for 1 scoop of the product. I did not see any left-over powder sitting at the bottom or clumps in my shaker bottle. No problems to note here.
Launch
Wednesday, January 19th
12 PM Central
1 PM Eastern
Formula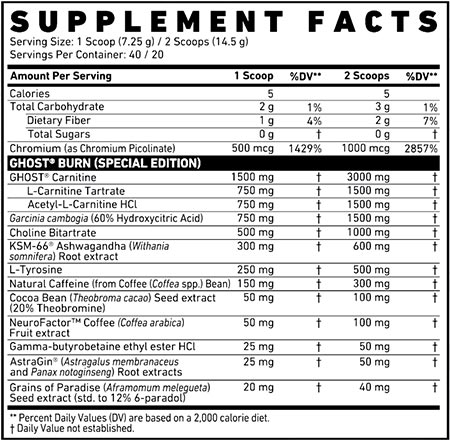 Per 2 Scoops:
3g Carnitine
1.5g Carnipure L-Carnitine Tartrate – Transport fatty lipids to be burned off as fuel
1.5g Acetyl L-Carnitine HCL (ALCAR) – Nootropic cognitive enhancer
1.5g Garcinia Cambogia – Support appetite control and improve weight loss.
1g Choline – Cognitive enhancer
600mg KSM-66 Ashwagandha – Improve mood, reduce stress, lower cortisol levels.
500mg L-Tyrosine – Nootropic cognitive enhancer
300mg Natural Caffeine - Stimulant
100mg Cocoa Bean Seed Extract (Theobromine) – Nootropic cognitive enhancer
100mg NeuroFactor Coffee Fruit Extract – Nootropic cognitive enhancer
50mg Gamma-bulryobetaine ethyl ester HCL – Thermogenic inclusion to help enhance sweating, increase body temperature, and improve fatloss.
50mg Astragain – Improve uptake of ingredient absorption
40mg Grains of Paradise– Lower blood glucose, reduce inflammation and powerful thermogenic.
Changes from Burn v2:
Natural Caffeine used as the stimulant source
Add 50mg of GBB (Thermogenic) – Remove Bitter Orange Extract
Add 1.5g Garcinia Cambogia (Support appetite control)
Add 50mg Astragin – remove Bioperine