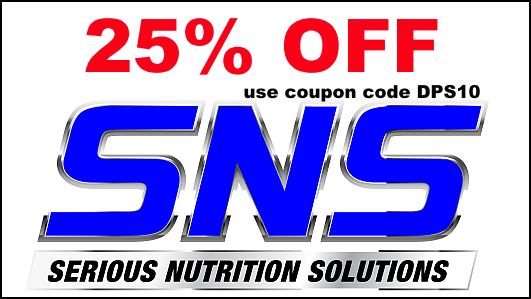 25% off all SNS products
Damn I missed this…just ordered Cissus…
It's too bad that Glycophase is out of stock
Do you stack the cissus with any other joint product?
I will see when they will be restocked and let you know. A1 has 2 bottles for $44.99.
I do not. I ordered Cissus only. I alternate between PES Tru-Multi and Legion Multi. I noticed that after a month or so of taking Legion my body (joints) feel great. I looked again at the label and noticed the Cissus and thought that must be it…
Could be flawed thinking, but I'm about to find out. And it's not like I'm in pain or have arthritis…its just that I feel stiff (stop it) some morning and with Legion Multi I didn't feel that…I felt good.
@M3NTAL per my boss "I'll see if I can get him to run a GlycoPhase special when he gets them back in. He's really good to work with."
@M3NTAL GlycoPhase shipped to DPS today. I think he's doing another good sale on SNS stuff too. I'll let you know ASAP.
Oh nice I need to stock back up, so that will be nice
Great! Thank you. I just picked up some of the GlycoPhase from A1.
Shit, been through about 4 boxes of Bronkaid
I had to Google that. Thought it was a concert.