Scrolling through my Instagram feed, I noticed an ad for free samples with free shipping. Me, like almost anyone on these forums, immediately signed up. Shipping took about a week.
I have never heard of Forzagen. All I thought of was the racing video game… The company sent two whey protein packets (chocococo flavor - which is chocolate coconut) and two BCAA packets (pineapple flavor). They also threw in a shaker bottle. Not a bad gesture from a company, with zero cost to me.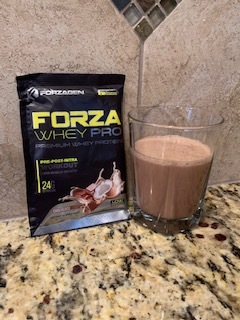 For kicks - I went with the protein. This protein boast a concentrate and isolate blend but also threw in a digestive enzyme blend, consisting of Papain and Protease. I'm a huge of Protease and notice an immediate improvement in digestion when taken in conjucntion with any type of whey concentrate or caesin.
The label claims 120 calories, 24g of protein, 4g of carbs (2g from sugar). and 2.5g of fat. The label claims it consists of milk and soy, so soy haters watch out.
The smell is a strong cocoa and coconut combo. Envision what a chocolate coconut milk shake would smell like. The taste is really stinking good. There was no fluid recommendation on the label, so I went with a conservative 7oz. I think 8oz would have been perfect. Forza whey is thick and delicious. The coconut is the real hero here. The rich cocoa is awesome but the coconut is a perfect and refreshing compliment to cool the taste from your standard chocolate flavor. I would drink this again and again.
The issue for me is the cost is on par with the market. $50 for 5 lbs, $27 of 2lbs. They have isolate options and vegan options too, but I have yet to try them. They also have BCAA products with added hydration elements and a preworkout with DMHA (whoop).
I would try more of these products based on my experience with the Forza Whey Pro and the BCAA.