We all know Dymatize as one of the go to retail protein products. The taste of their isolate, concentrate blend, and casein always please those who prefer sweeter tasting protein. This Dymatize anniversary flavor is a home run for those who have been patiently waiting for a chocolate caramel flavored protein.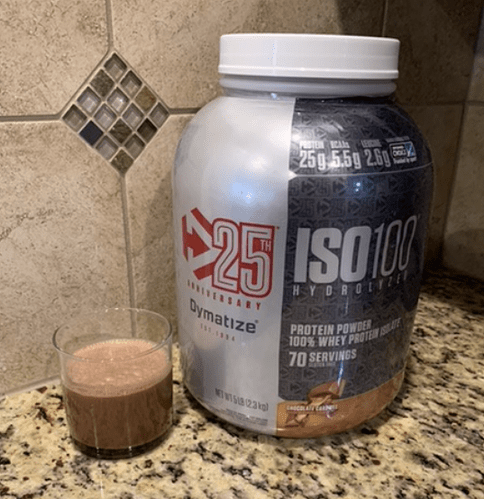 We all know the macros for the typical ISO-100 serving. Roughly 110 calories, 25g of protein, 1g of carbohydrates, and 0g of fat. One of the most clean isolate proteins available from any brand. This makes this product ideal for those looking to minimize caloric intake, without sacrificing top quality flavor.
Dymatize Chocolate Caramel packs a delicious flavor profile we come to expect from Dymatize. The caramel is potent from the moment you open the bottle. True to its name, the flavor has a robust milk chocolate taste with a perfectly balanced caramel compliment. The sweetness is elegant yet not overpowering. It is certainly on the sweeter side of flavors, but I'm a fan of that. It would be difficult to make a chocolate caramel flavor without giving the flavor profile a respectable amount of sweetness.
Overall, this is one of my favorite flavors of ISO-100, behind only Peanut Butter. The same ratio of coconut flavor in the brand's Chocolate Coconut ISO-100, is comparable to the caramel to chocolate ratio in the Chocolate Caramel flavor.
This is delicious and highly recommended! Dymatize has the most robust flavor offerings for its isolate protein, of any company out there.
Flavor gets 9/10 from me and macros get 10/10. Blended with cashew milk and a handful of ice, this makes a killer smoothie. This will absolutely be a repeat purchase for me!