First off, thank you to @stad0203 & @TeamCellucor for being here on the @PricePlow forum and running this giveaway along with the many others from the past.
This post is the beginning of my review for the bottles that I recently received. As my gyms are still closed, I can not yet post my review for this product when it comes to performance from a weight training session. So for now, I will speak briefly on the flavor and formula for the product.
When it comes to the formula, I have used the original powdered version of C4U many times and currently have an open tub of it in my rotation for when the gyms open up again. For comparison, I have attached a label of the powdered version below: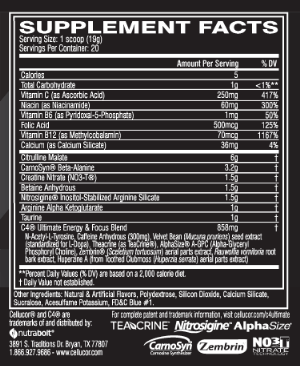 The main differences that I see is the "On The Go" version does not have the Creatine Nitrate, Nitrosigine and the blend is 150mg smaller (I believe the missing ingredients from the blend are the velvet bean and TeaCrine).
Lastly, both formulas do have an artificial blue color added but the powdered and RTD both appear to mix up clear, so I can only assume there is very little of that artificial coloring included.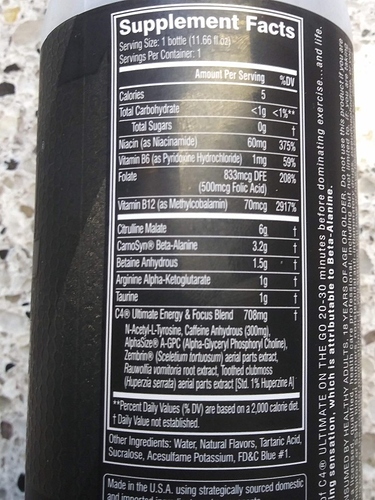 In terms of taste, the flavor I received for the RTD is Sour Batch Bros and it is delicious (just like the powdered version of the same flavor that I have). The RTD formula is mixed in just under 12 ounces of water. To me, it doesn't taste like a specific kind of candy but it is sweet, tart and sour (all positives for me). Nothing is overwhelming and I would have no problem drinking these all the time.