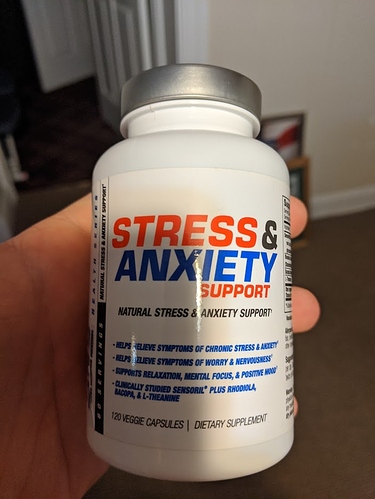 Why I chose this
In summer of 2019 I got around trying out KSM-66 and really found that the ingredient does well for me. After running a few bottles of KSM-66 I wanted to branch out and try out other companies products, so I finally got around to trying SNS Stress & Anxiety Support. I was interested in this as this uses Sensoril for Ashwagandha instead of KSM-66 for their patented version, so wanted to see if it made a difference for me or not. Lets get this rolling.
Ingredients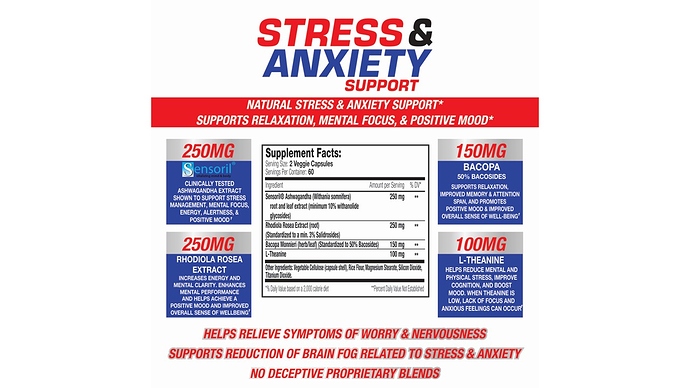 Sensoril Ashwagandha (250mg)
- At first I saw this and thought it was a low dose. Typically you want 300-500mg of this daily. After doing some more research of Sensoril vs KSM-66 I have found that "KSM-66 is made only from the ashwaganda root, while Sensoril is made from both the leaf and roots. Since the withanolid percent is higher with Sensoril, KSM-66 often has a higher dose." (Source
https://www.mindfulsearching.com/ksm-66-sensoril-ashwagandha-extracts/
). So I compared KSM-66 from NutraBio (5% Withanolid) and Sensoril has 10% withanolid.
Rhodiola Rosea Extract (250mg) - You see this a lot in your PWOs typically, and I have never taken this daily consistently so thought it was a cool addition. "Rhodiola rosea is an herb thats popular for its "adaptogenic" properties (reducing fatigue and exhaustion in prolonged stressful situations). Preliminary evidence has also looked at neuroprotection, among other possible benefits." (Source https://examine.com/supplements/rhodiola-rosea/) Here this one is standardized to 3% Salidrosides which is great, since you want at least 1% for this. Typical daily dose here is 288 - 680mg daily, but again I like the dose here as you are not exactly throwing yourself in a stressful situation (hopefully not) daily as this is not a PWO.
Bacopa Monnieri(150mg) - Now this is one ingredient I always enjoy! This "is a nootropic herb that has been used in traditional medicine for longevity and cognitive enhancement. Supplementation can reduce anxiety and improve memory formation." (Source https://examine.com/supplements/bacopa-monnieri/) Typically you would want 300mg with 55% total bacoside content, here we get 150mg at 50% so half dose. So half of what you want, but as I will state below it is all about the combination of ingredients here.
L-Theanine (100mg) - I won't belabor this one since we all know what Theanine is for. Typically you will see this in your PWO to curb any possible caffeine crash. 100-200mg daily is what you want and normal taken alongside caffeine, so thought it was pretty cool to see this in a product with no caffeine.
Overall the big takeaway here is the combination of ingredients. A lot of them are on the cusp just below minimum daily recommended dose, but that idea is the combination of them working together in concert versus a stand a lone. I personally enjoy this combination and it makes the product unique to me thus far and makes it a little different than taking just Ashwagandha. Very nice open label on everything and standardization's of each ingredient as well.
Dosing
Easy as it gets, 2 capsules 1 - 2 times a day. I only ever took this once a day in the morning with breakfast. I will have to do a run again in the future and try it twice daily to see if I can notice a difference, but found no real need here. You get 60 doses so it was nice to have a 2 month run on this.
Results
This is not something you are going to notice immediately. If you are just starting out it will take up to 2 weeks to start feeling any difference and it is going to be very slight, at least in my experience. What I found here is that I did feel a little more relaxed during my day and had an overall sense of better well being. It is one thing I did not think about until I ran out and went back to KSM-66 stand a lone. As a stand a lone Ashwagandha does relax me a bit and I do not feel that daily stress, but this product as I said did that and just made me feel good during the day. So yeah I truly enjoyed this run! I wanted to compare Nutrabio KSM-66 to this product but honestly that would not be a fair comparison as they are the same but different if that makes sense. One relies on one ingredient while this one gives you a great combination of ingredients. I plan to run both as my staple going forward, but will be included SNS Stress & Anxiety more often.
Price
Right now you can get this at DPS nutrition for $19.99 for 90 caps (60 doses). Also at times like now you can use code DPS10 and knock that price down to $18.74. I think this is a pretty great deal for what you are getting here in this product.
Final Thoughts
Overall I was very happy with this and I highly recommend this product to anyone out there. It does not matter who you are or what you do we all feel stress and anxiety in our lives daily whether it is self inflicted or brought on by idiots in the world. This will help put you at ease and make your day just that much better. Great job here SNS, this gets DaSlaya's 2 thumbs up and I highly recommend.