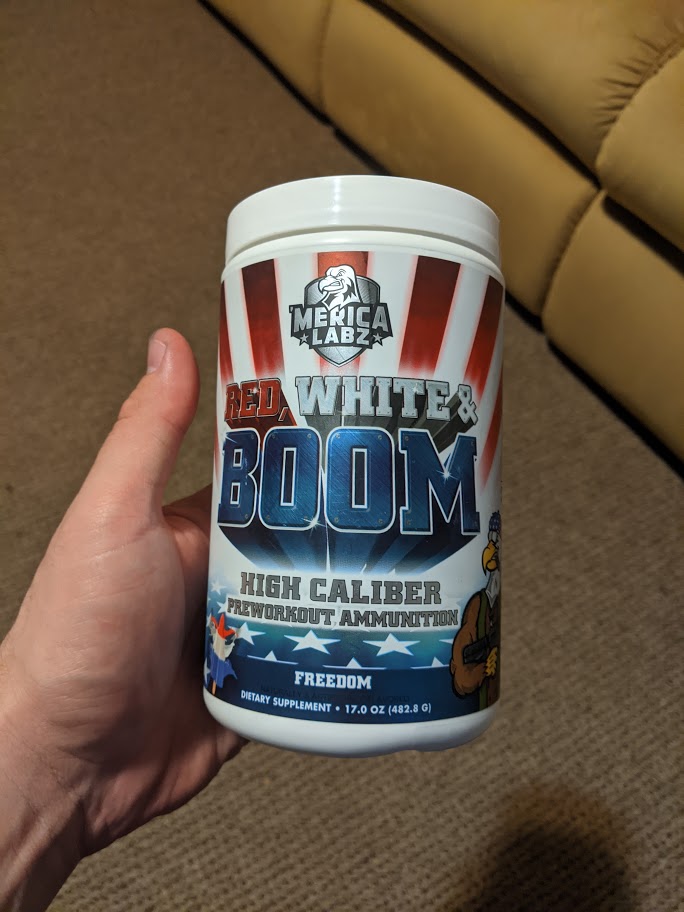 Why I chose this
Well over a year ago, I wanted to try out some products from Merica Labz as I thought the patriotic theme was fun and had not tried any of their items. At the time I picked up a couple Protein powders from
BB.Com
, they had this PWO for 30 bucks on sale, so I decided to snag it. I finally got around to trying it out, and at this point I have tried the Protein Powder, Suprimos, and Energy drink from Merica Labz. Sometimes the best way to judge a company is how good their PWO is, so let us see how Merica Labz did.
Ingredients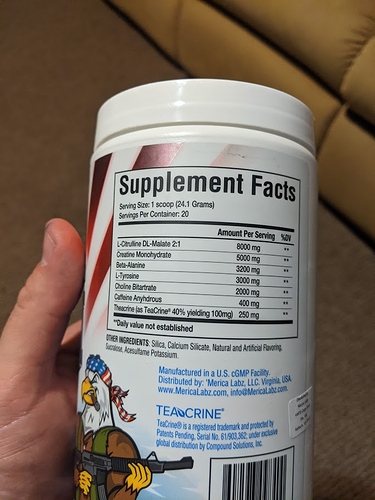 The first thing that stands out here is a completely transparent label which is a great start. Honestly there is nothing in here that is "special" or stands out, this appears to just be a basic PWO. I will admit this profile made me hesitant to try it at all, but I figure I don't know what I don't know, plus I love trying out different supplements so what the hell. I personally like the inclusion of 5g of Creatine Mono, as I usually take my Creatine with my PWO or intra, so this was one less thing to have to remember. The caffeine content in this made me nervous, as it is high for me for just an anhydrous, my usual sweet spot is 250-300mg.
So yeah, not much else to say on this subject, very simple.
Taste/Dosing/Mixability
Taste - I got the Freedom flavor, but it did not taste like a rocket pop or anything like that. It was basically a fruit punch type flavor. It did not taste great or bad, it was very drinkable. So much like the ingredient profile, very average.
Dosing - 1 scoop 30 minutes prior to my workout. I would advise never taking more than 1 scoop of this with the amount of caffeine and other stims present per dose.
Mixability - No issues here. I did not have any leftover grit or residue after downing this, and the powder mixed just fine in my blender bottle, whether it was one with grates or the ball. I would never expect a PWO to have poor mixability, so again right on par here.
Results
Okay, all this talk so far about how average this product is, I guess that is the expectation in this paragraph. NOPE. This actually blew me away how well it worked for me from every dose start to finish. I did not give me over stimulations (as I feared) or the cracked out feeling, somehow the caffeine managed to come in a nice clean energy type feeling and almost phase in rather than all at once. Pump wise, nothing I noticed. Focus wise, the Choline helped a little bit, but not really much. What made this product shine for me was the amount of nice energy it gave me and it would last well past my 90 minute workouts. No crash after and it did taste like quality energy.
Price
I picked this up for $30 from BB.com and I had no buyers remores with it at all. You get 20 servings out of it so it comes out to around $1.50 a day. I personally would not pay that price again for this, but right now you can pick this up for $27.99 from All Star Health or BB.com. That is a better price, not by much but better. If you can get this for $25 or less, then I say it is a great deal, for the current price it is fine, really depends on your budget. But at the end of the day I do not feel this is overpriced, because it did work great for what I needed it for.
Final Thoughts
So for energy this worked very well and was surprising. Maybe you can consider that average, since there were no added pump or focus effects. I enjoyed it, and if you can find this on sale somewhere for cheap I think it is worth your time. If you are looking for something more all around then this probably is not for you. Though this appears to be an average PWO, I put it in the above average category for how well it worked, so it all boils down to what you look for in a Pre. For energy during long workouts, this gets the DaSlaya stamp of approval.