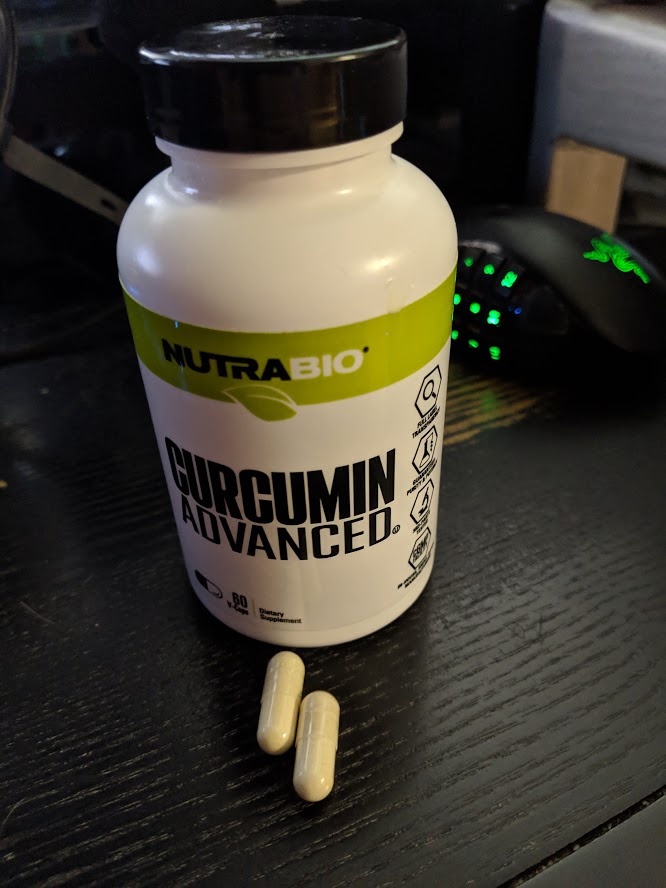 Why I chose this
After 20 years of service in the Army I have developed arthritis in all of my joints except my right hip. I also have some significant ankle injuries as well due to 2 previous surgeries. So, when I try a joint product I take it with a grain of salt and understand the pain will always be there, so my expectations are not out of control. However, basic pains are increased, mostly noticeable in my wrists and knees when I am lifting 4-5 days a week. I tried many joint pain formulas in the past, and some worked, some did not. I tried Curcumin from a company called Life Extension and had some great results, so Curcumin became my go to supp for joint pain. When NB came out with their version I was very excited and it used a different form of Curcumin but included Astragin and Bioperine for absorption. If you did not know, the hardest part of Curcumin is the absorption, so this seemed legit to me.
Ingredients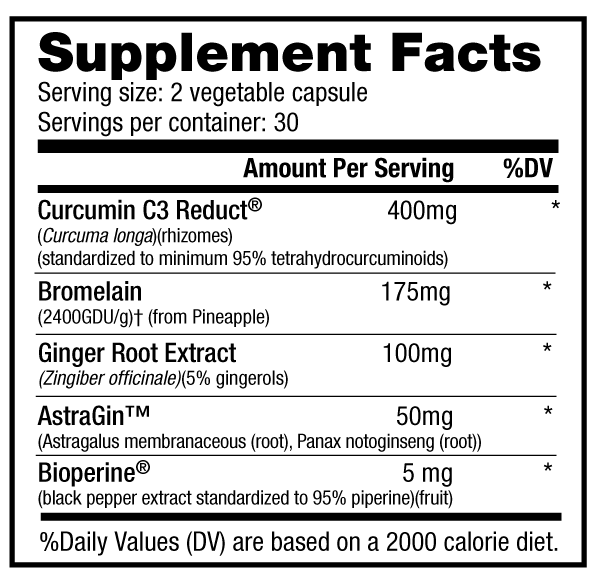 As you can see this is not your average Curcumin product. Lets quickly touch on each ingredient. Dosage is based off 2 capsules.
Curcumin C3 Reduct (400mg): This is a new form of Curcumin for me. Supposedly this compound offers higher bioavailability and better dosage efficiency. 400mg once a day is recommended dosage for this form and more info can be found here https://www.c3reduct.com/about/advantages-formulators/
Bromelain (175mg): An enzyme extracted from Pineapples that can reduct heart burn and act as a nasal decongestant. This also aids the body in breaking down protein and has anti-inflammatory properties. This is a bit low in here, as 200mg daily is the recommended dosage via Exmaine.com, but either way its a nice addition.
Ginger Root Extract (100mg): This has a ton of benefits, but I am guessing its in here for its anti-inflammation properties just like Bromelain. Dosing usually starts at 1g daily, but I could not find any info on minimum dosing specifically for its anti-inflammation.
Astragin (50mg) & Bioperine (5mg): Absoprtion, Absoprtion, Absoprtion. I was excited to see 2 forms of absorption items included in here to ensure that Curcumin is truly being absorbed. Also I am a huge fan of Astragin.
Dosing
I took 2 capsules (1 dose) with breakfast each day. Now this is where Curcumin gets tricky as the biggest problem (mentioned above) is the fact Curcumin is poorly absorbed. Examine.com does a nice job at breaking down how to take Curcumin and that can be found here: https://examine.com/supplements/curcumin/
However, C3 Reduct is not mentioned in that article, which is fine, but I wonder about exactly how this form of Curcumin offers higher bioavailability. BCM-95 and Meriva forms have attached Lipids to their compounds for this, so am just curious on why NB picked this form? Just curious if this offers any more advantages vs other forms.
Results
Well, this was effective to a point for me. However, this was not as effective as the other Curcumin product I tried. This did take away some minor aches and pains, but not much more than a good Fish Oil product would. I was expecting a bit more, since I am a huge fan of NB, and this just fell a little short for me. I realize this was designed (at least I think) to be stacked with NBs Joint Care, but I prefer to run Curcumin alone. If you suffer from very minor aches and pains, then this will probably work for you though, so it does do an okay job.
I do like the addition of Bromelain in here. I love to keep high protein in my diet at all times, so the added digestive enzyme here is pretty great even though I realize its main reasoning for inclusion is for its anti-inflammation properties. So bear in mind you are getting a little more than just Curcumin here. I am unsure if the effectiveness falls short due to an absorption issue, but whatever the case is, thats my unbiased opinion.
I am on my second bottle at this point, and I think I may up the dosage to 2 pills twice a day and see if that makes a significant difference. If it does, I will come in and update this at the end of my second bottle.
Price
You can grab this for $29.99 from NB, Amazon, or Natural Body inc. A little more expensive than other Curcumins, however, this does have a couple extra ingredients, and you get the NB guarantee of quality and third party tests. I do not think this is a bad price honestly if you truly care about quality.
Conclusion
I was glad to try this out and was very happy that NB finally made a Curcumin product. I may have hyped it up a little too much in my head, and it does an okay job at ridding you of minor aches and pains. However, I have had better products in the past and will likely stick with those for long term usage. It is very rare for a NB product to not exceed my expectations, but I must stay honest and it happens. Nice to have this as an option though, and I do believe this would work for most people with minor aches and pains.