Med+Kit - Redcon1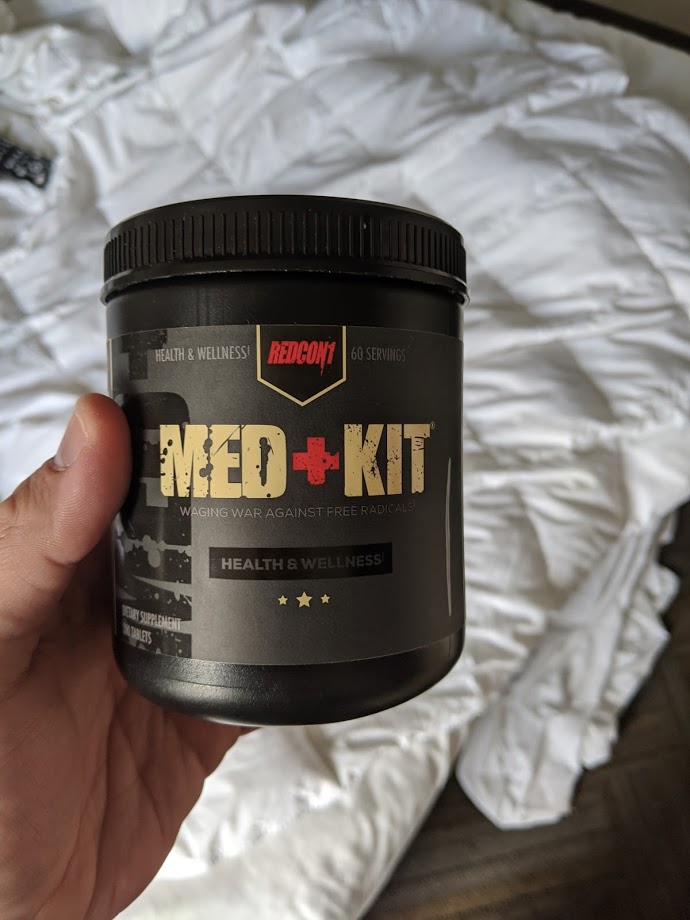 Why I chose this
I always keep in a Multivitamin as part of my daily staple. I have wanted to give this one a try, as I tried most REDCON1 products in the past and moved on since, but figured why not try their Multi. Also there was a BOGO on this, so that is when I decided to give it a go.
Ingredients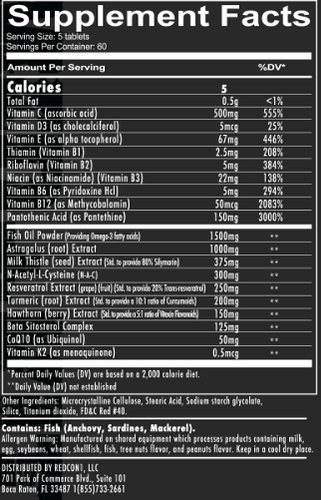 As you can see you have the usual suspects and then a lot of added in ingredients here to try and stand out as a Multi. A few things that stood out to me here was the lack of Vitamin A or Folic Acid. These typically are found in all Multi's out there, well at least the ones I take.
The extra ingredients you have are quite a bit from Fish Oil, COQ10, Turmeric, Milk Thistle etc… So this is definitely trying to be a jack of all trades multi designed to replace multiple pills a day from different sources. Some extra's that I like to see that were not included are Boron and Biotin, but it is not the end of the world.
Dosing
Dosing - Simple enough, you count out 5 pills a take them once a day with food. I took these with breakfast daily. The vitamins are medium size, but not out of the ordinary for being a multi.
Results
Obviously it is hard to judge the true effect a Multi has had on the body. I used to judge this off of whether I got sick (or had sick symptoms) but this being a crazy year and staying inside more often than normal, it was tough to judge. I can say I did not get sick during my 4 month run of this. And to clarify, yes I got a BOGO on this so I had a 4 month run on this.
I have two big gripes with this though. The first one is the weird taste. I hate hate hate when vitamins are medium to large size, and have a weird taste to them. From the first dose to the last dose the taste made me gag every single day slightly. No need for that these days. The second big gripe is, I am used to Multi's having little bags or having separate pills when they include things like Turmeric and Fish Oil. For whatever reason this is simply take out 5 pills daily, so I do not understand how they dosed each one with this many ingredients evenly. Granted I have never formulated anything, so I could be way off here with this gripe.
Price
I got this for a BOGO from REDCON1 site itself for $60 bucks. Typically this goes for about $60 for a 60 day supply (300 pills) so you are talking a dollar a day. Sure you can find some better deals, as currently $47.99 from BB.com. I dunno, since I did not enjoy this run I would say that this is an average deal.
Final Thoughts
Health wise, I cannot say whether this worked well or not. But the weird pill flavor, and my lack of understanding how they got this evenly dosed out in 5 random pills is enough for me to say I did not enjoy this run. It became a struggle to get through it, but I did. So I would not recommend this one and it does not get the DaSlaya stamp of approval. Sorry REDCON1, but I think I am done with this brand offically at this point.