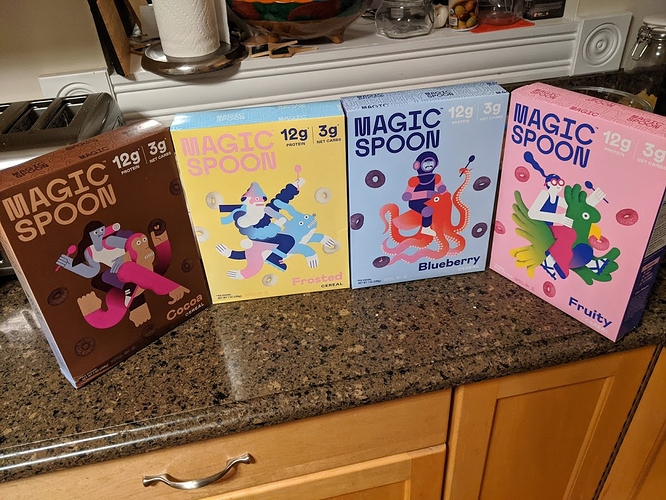 Why I chose this
I absolutely love cereal and grew up eating it like most people. Of course, my favorite ones are very unhealthy for you and are not something I would want to keep in my diet daily or multiple times in a week. In the past I have looked for some high protein, healthy cereal, and tried ISO-Poofs and absolutely hated it, so I gave up. I kept seeing Magic Spoon on Instagram and decided to give to look into it, since I mostly do not trust any ads I see on IG. Turns out the co-founders of Magic Spoon were also the co-founders of Exo, until they sold it to Aspire. That was good enough for me, to at least give it a shot.
Ingredients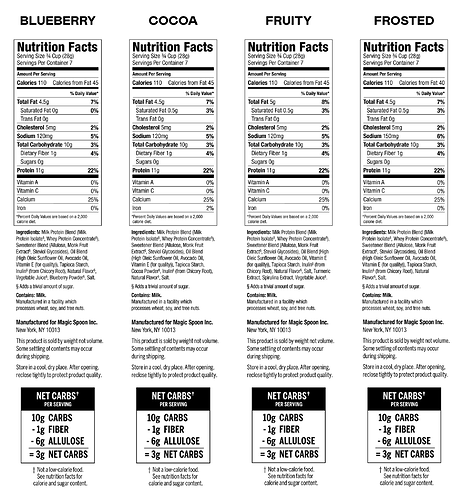 Not a bad ingredient profile here for a bowl of cereal. It is high in protein and low in carbs, and is gluten and grain free for those that need it. Each serving size is only 3/4 cup as you can see, but the macros are fine for me so I just pour as much as I want at the time in a bowl and don't worry about it. Bear in mind this does contain a Milk Protein Blend (Milk protein Isolate, Whey Protein Concentration) so if are sensitive to milk, well then you likely aren't eating cereal anyways.
Taste
I have been eating this for the last 2 months and have managed to try all of their flavors. I would have guessed the Frosted would me my favorite, but I was completely wrong. Here is the order from my favorite to least favorite:
Birthday Cake (Limited Edition Release)

- This reminded me more of a vanilla version of Frosted Cheerios, and I love it.

Blueberry

- Strong hints of Blueberry in this, and it is so smooth, tastes very close to Ghost Blueberry Toaster Pastry Whey

Cinnamon

- Almost identical to Cinnamon Toast Crunch

Fruity

- Yup, just like Fruity Pebbles.

Cocoa

- Nice chocolate flavor, just like Cocoa Puffs

Frosted

- You get a small hint of frosted cheerios in this, but it does not quite have as strong of a flavor blast as the others.
Don't get me wrong, I like all of the flavors, and I have yet to find one I dislike.
Price
This may be a deal breaker for some people because they are pricey as you would suspect. For me, I eat cereal maybe 2-3 times a week so I can make these boxes last. If I were to eat cereal daily, then I would roll through at least 1 box a week. You can only buy these as a case (individual flavor or variety) which are 4 boxes for $39.99. That comes out to roughly $1.39 per bowl. Shipping is $4.99 on top of that. I enjoy these so much I just buy 1 - 2 cases at a time and then have cereal for a while and not worry about it. If someone could ever figure out a discount code on these that would be awesome!
Final Thoughts
I am very happy I gave these a shot, and these are now included in my breakfast rotation during the week. I have had multiple boxes of each flavor and have not gotten tired of them yet. Hopefully they continue to crank out more, and the flavors they have chose are safe enough to remind you of the cereal it is mimic'ing. So a healthy alternative to ease your morning cereals craving that you used to eat as a kid! This gets the DaSlaya recommendation.
Someone mentioned Cereal School on here, I briefly remember seeing them advertised on IG. Maybe I will order some of those for comparisons sake.