Competitive Edge Labs previews its "massively dosed" pump pre-workout
Oh man this is exciting!!
so 13 grams a scoop, 6 ingredients
glyerol is likely going to be in it, as well as other ingredients sns sells. The scoop is a bit small to include a high dose of both citruline and glycerol, unless the rest of it is lighter ingredients like vaso 6 and Spectrum 7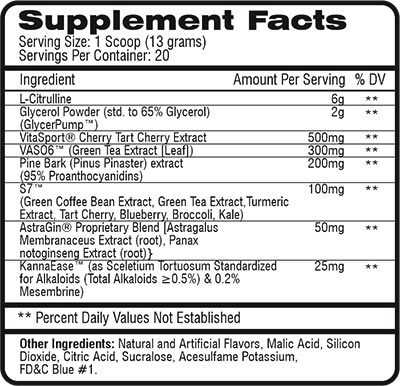 Profile
Very excited for this one. This profile looks amazing as well as including one of my favorites (VASO6)
Overall what I expected, the kanna and tart cherry are interesting additions.
My main question is why you put the pinebark extract in this over the capsule product
There are a couple of reasons but primarily:
VasoForce XT is a very heavily dosed formula containing 5 high end active ingredients including clinically researched key ingredients.
We felt that Pine Bark wasn't needed in VasoForce XT with the massive 600 mg. dose of VASO6.
In order to keep the capsules per serving to 4 capsules, we ran out of room to include additional ingredients.
Really great formula!! I like what you guys have put together here!
Like the formula, how's it taste?
I moved this to the recent Super Swole thread.