Cinnamon Sugar Donut Cashew Butter Outright Bar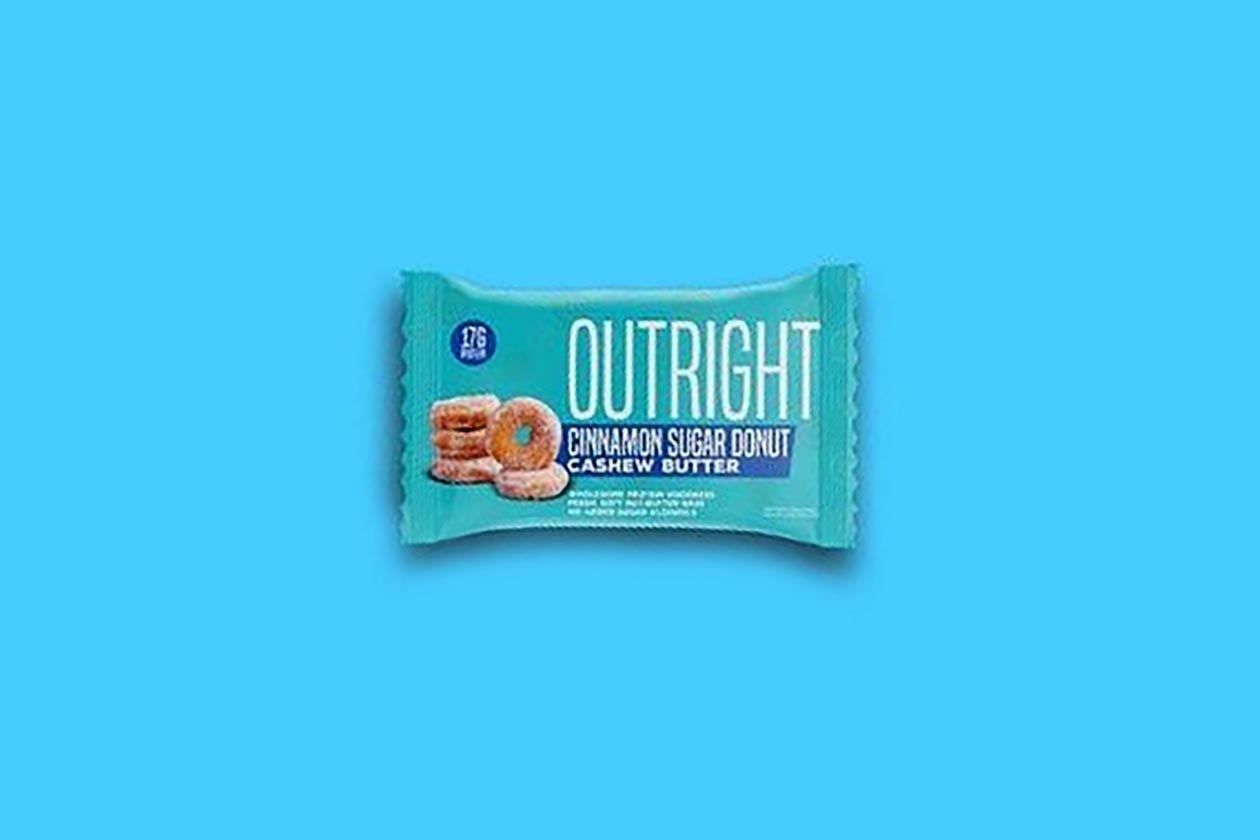 Cinnamon Sugar Donut – This is the first flavor to feature the cashew butter bar base. Cashew butter has a very distinct taste. The roasted cashew flavor is present, but not overbearing like you find in the peanut butter outright bars. The cinnamon sugar spices are strong and compliment the base very well. I would say the sweetness of the cinnamon sugar and cashew butter do go hand in hand, but the donut element needs to be enhanced. I did not get a large butter undertone of a fresh-baked donut, but I also did not expect that from a healthy snack. Overall, I really enjoy cashew butter, and it is great to see the outright bar utilize different bases to suit all their consumers. This is a good chance of pace, but not a top tier bar in my opinion.
Texture:
The texture of the bars correlates with a soft cookie. They are a bit firm on the outside, but you can puncture them with your finger. The middle is soft, chewy, and melts in your mouth. I have not tried putting them in a microwave. This is a bar that doesn't need to have anything done to it as the texture is just right and is easy to chew.
Macros:
Calories ~ 280
Fat ~ 13g
Carbs ~ 23g
Protein ~ 17g
Ingredients:
Cashew Butter, Honey, MTS Whey Protein, Brown Sugar, Cinnamon, Cane Caramel Color
Rankings:
Almond Butter Oatmeal Raisin
Almond Butter Chocolate Chip
Cookies & Cream Peanut Butter
Cookie Dough Peanut Butter
Cinnamon Sugar Donut Cashew Butter
Mochaccino White Chocolate Peanut Butter
White Chocolate Chip Peanut Butter ProteinCrisp
Double Chocolate Chip Peanut Butter Protein Crisp
Apple Cinnamon Peanut Butter
Sunflower Seed Butter Chocolate Chip
Peanut Butter Oatmeal Raisin
Gingerbread Peanut Butter
S'mores Peanut Butter
Toffee Peanut Butter Peanut Butter Butterscotch
Peppermint Cookies & Cream Peanut Butter
Peanut Butter Banana Walnut
White Chocolate Raspberry Peanut Butter
Pumpkin Pie Peanut Butter
Peanut Butter Chocolate Chip