For disclosure, I received a case of product from @stad0203 in exchange for an honest review.
I'm a big fan of C4's carbonated line, particularly their Smart Energy line, though I can't have those too often, as routine choline supplementation gives me brain fog. I'd say that energy drinks have 3 main components–taste, ingredient profile (usually just how much caff they have, but products are getting fancy now), and effects, so that's what we'll talk about.
TASTE
I chose Orange Slice because it's the flavor I love most out of the ones I've bought (quite a few). It tastes like a half-and-half of Diet- and regular Orange Fanta. Sweet and bubbly with a VERY strong orange soda or candy flavor, and only a hint of aftertaste from the artificial sweeteners. In my top 5 favorite energy drinks as far as flavor goes.
PROFILE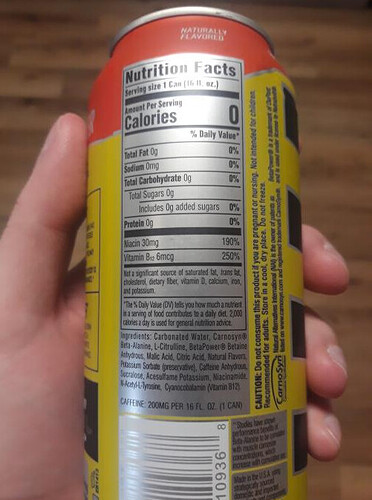 …Huh. C4 Energy was never transparent, but it did at least used to have a proprietary blend with total active ingredients weight listed, right?
Why'd you guys remove that? I hope it wasn't for NEFARIOUS PURPOSES, but I really have no idea, like all I can say about this is that it has 200mg of caffeine, and More Than That of beta-alanine. If you guys didn't cut the ingredient dosages, I think disclosing the total amount of actives makes for a much better label.
EFFECTS
As promised, it energizes! I'm a big fan of higher caffeine drinks, but I do like using these instead of a morning coffee when I'm dialing it back to the level of mortals–I don't like going as low as the 80mg or 160mg in some other drinks. I don't utilize it as a preworkout, as I don't like carbonated drinks before lifting, so I can't speak to the efficacy of the actives in terms of pump or endurance, but I do know they've gotten me through three 11-hour shifts over the past 3 days, so I'm pleased.
Overall, if you love orange soda as much as Kel and I do, I think it's absolutely worth snagging a couple singles and giving them a try, I can't imagine you'll be disappointed.