The folks at Nutrabolt sent me some goodies this week.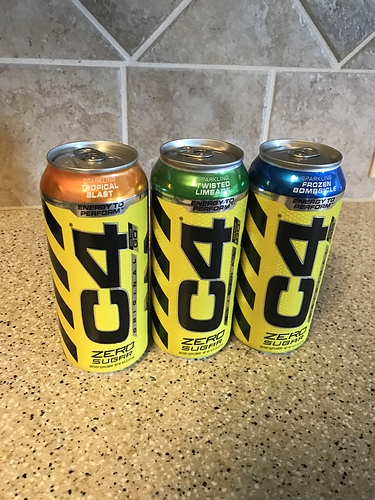 For the C4 lovers, the carbonated version is just as good as the powder!
I love carbonated drinks and will drink a diet soda or two during the week.
Thankfully, this C4 is a great alternative for a mid-morning energy drink or your standard preworkout.
I tried Twisted Limeade as a mid-morning energy boost and it felt just like taking C4. It tastes very similar to a Sonic Limeade, only it is carbonated! A really awesome twist on Limeade. I love carbonated beverages and the carbonation compliments this flavor very well! If you have an issue with the tingles from Beta-Alanine, then this may be better served as a preworkout supplement.
I tried the Frozen Bomsicle for my preworkout. This flavor tastes awesome! Equally sweet and sour combination, to make a very refreshing and enjoyable drink. I definitely prefer this flavor over Twisted Limeade. My workout was exactly what I expected, knowing I was taking C4, only in carbonated form. Plenty of energy to push through an intense 22 set day, followed by 30min of cardio.
This is one of the cooler products I have had in recent years and I highly recommend anyone who likes C4 and who likes soda, to try it! I hope Cellucor makes a carbonated version of Alpha Aminos, so I can drink these at night!