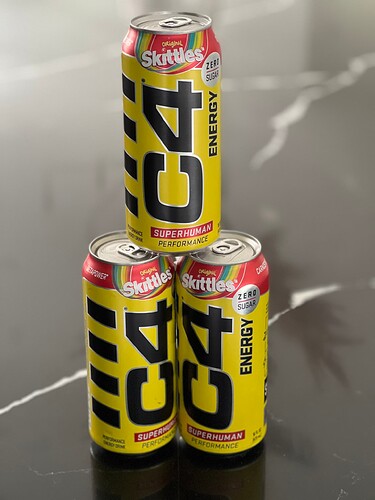 C4 Energy Carbonated Skittles Review
Taste: As we all know taste is subjective and I personally prefer sweeter drinks with strong flavors. I tried this flavor multiple times and at different temperatures. I found it to be quite good, but somewhat light. While was sipping on it I was hoping it would get stronger. So if you don't like strong sweet flavors this would be perfect for you. I'm hoping they bring it to their Smart Energy line, as those typically fit my palette better. The Ice Blue razz for example, I consider one of the best on the market.
Rating: 7.5
Effects: C4 Energy has 200mg off caffeine, which is my sweetspot. You get a nice sustained energy and even though it has Beta-Alanine and Niacin I didn't get any itchiness or flush. It also has L-Citrulline and Tyrosine as it's marked as a pre-workout drink as well, but I didn't use it in that setting, so can't speak to effects while training.
Rating: 8.5
Overall this is a good addition to an already established solid product and it would definitely take it to the top for me if they intensified the flavor a little bit more as I personally prefer sweeter drinks.
Overall Rating: 8.0
Thanks to @stad0203 and @burntreality for continuing to offer us opportunity to try new products and look forward to trying new flavors in the future