I just received my package from Blue Star Nutraceuticals over the weekend and wanted to give a shout out to @Adidasshorts for hooking me up! Also, the shaker cup was a nice added bonus that I wasn't expecting on top of the AminoFast Shred Series product. For my review, I chose to test out the AminoFast Shred series in Raspberry Lemonade.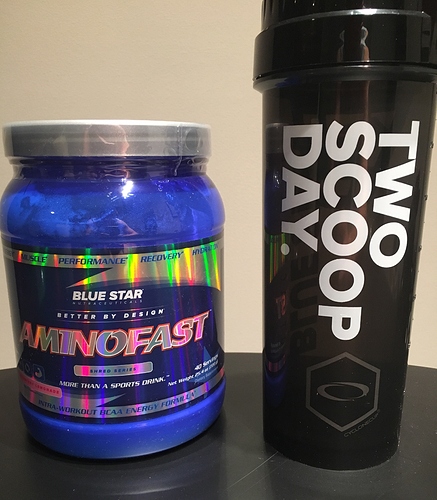 Currently, I workout fasted most weekdays around 6:00 AM for about an hour and train fed once or twice on the weekends depending on my schedule. I don't use an intraworkout at the moment, so this will be a nice addition to my fasted workouts in the morning and hopefully I will see some good results throughout this trial period. Also, I am currently trying to decrease my caffeine intake/tolerance, so I am taking two scoops of Ghost Pump as my preworkout since this is a non-stim product.
This morning was my first workout using the AminoFast Shred product. I've decided to sip on it during my workouts but the nutrition label recommends taking it immediately before, during, or after a workout, so timing is really left up to each individual. I mixed one scoop with 16 oz of water, as this is the minimum recommended amount of water on the label. As soon as I took my first sip, the flavor was very overwhelming and almost too strong for my liking. I will definitely dilute the flavoring with more water next time and probably use 20-24 oz of water. If you like strong flavoring, this product is definitely for you. As for the raspberry lemonade flavor, the sour aspect of the lemonade is much more noticeable but you do get the sweet aftertaste of the raspberry after a few seconds. I really like this flavor and tend to lean more towards sour preworkouts anyway, so this flavor is definitely one I usually prefer to consume. There weren't any noticeable effects during my workout but I believe this product is intended more for optimal recovery and producing results over a longer period of time so I will report back with more findings after more uses/workouts.
Let me know if you have any questions or would like me to touch on anything specific throughout this trial period.