BEAM Whey Protein
Taste
Salty Peanut Butter - This is a flavor that resembles Salty Peanut Butter and Chocolate Flecks from Jeni's Ice Cream. Don't get me wrong, when you compare actual ice cream to a low-calorie protein isolate it is apples to oranges, but yet again BEAM rises to the occasion. The initial taste of salty peanut butter is soon complemented with a subtle cocoa flavor In the backend. The best part is how both flavors go hand in hand to complement each other without them being overbearing. There is a good relationship between salty peanut butter and a minor hint of chocolate. The company took the base ice cream peanut butter portion and replicated it into the ice cream. There is no direct added chocolate or there would be cocoa that is why peanut flour is on the ingredient profile list. Fantastic flavoring and one of the best isolates I have had.
Chocolate Fudge - Chocolate Fudge from BEAM is the second flavor the brand has produced for its Whey Isolate Protein. While a lot of companies go for single flavor chocolate I found this was hybrid milk chocolate and dark chocolate combination. As the flavors mesh together you will notice how strong and bold the flavors compliment each other. Fudge has a diverse chocolate flavor, but BEAM was able to replicate it very well in a low-calorie protein powder. When comparing BEAM to other isolates on the market the mouthfeel, texture, and consistency are three main areas I find that stick out. Usually, isolate protein powders are very thin, but the added fiber and gum blend helps enhance the experience.
Mixability
BEAM Whey Protein is a pure whey protein isolate. The protein in general it mixes with ease. I found this to have no issues when mixed as a shake and made into protein pudding. For isolate-based protein powders, I find 4-6oz of liquid per scoop of protein as my sweet spot. When making it into a protein pudding I slowly add water or almond milk to my desired consistency. I found no clumps when mixed in either fashion, which is to be expected from high quality, isolate protein.
Formula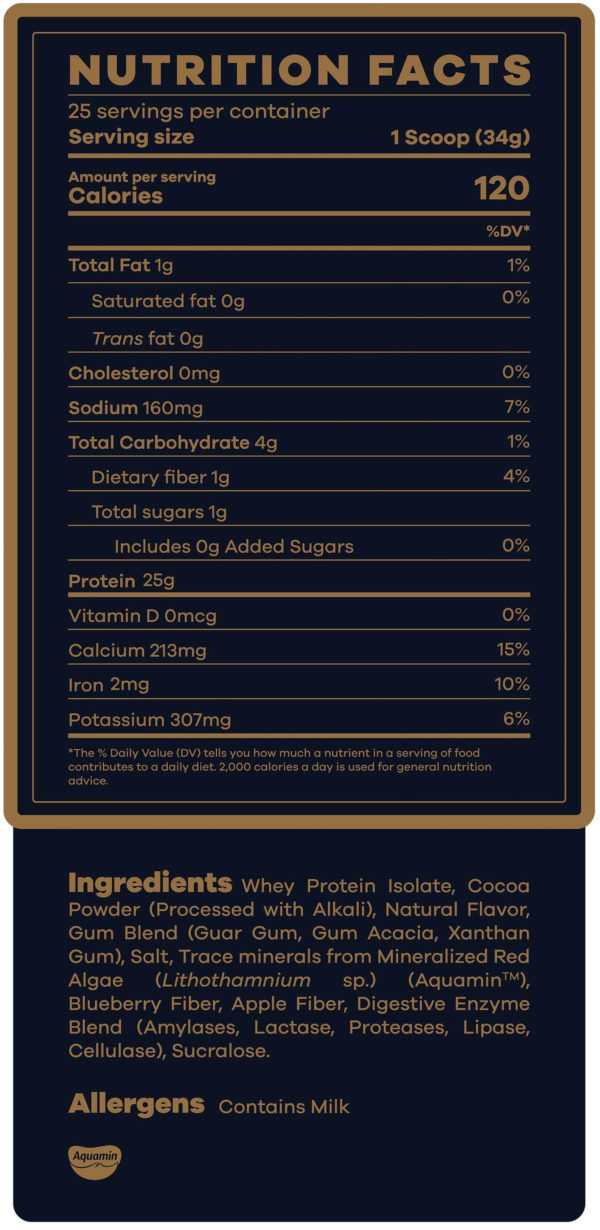 Calories ~ 120-130
Fat ~ 1g
Carbs ~ 4g
Protein ~ 25g
Whey Protein Isolate
Aquamin (Bone & Joint Health)
Digestive Enzyme Blend (Aid absorption)
Cocoa & Peanut Flour (Flavor)
Blueberry & Apple Fiber (Texture)
Gum Blend (Aid Thickness)
Natural Flavors & Sucralose (Flavoring)