Beam Greens:
Chocolate – BEAM's greens in chocolate is unique. You would not think a greens product would be flavored like protein powder, but it works. It has an initial milk chocolate taste that has a swiss chocolate backend flavor. The hybrid chocolate flavor is truly unique and the flavor does not fade from the first sip to the last. You do get a slight gritty earthly aftertaste but that is to be expected from a greens powder. BEAM was able to make a greens taste fantastic even in a chocolate flavor for those who truly want a unique experience.
Berry – BEAM's berry greens is a hybrid berry flavor. At first sip, you get a faint berry melody with an earthly backend taste. While you still get the lingering raw active taste it is almost inevitable to mask when creating a diverse greens. I found that the strawberry and blueberry flavor was dominant as I got a blackberry and raspberry compliment on the backend. The overall mouthfeel is soothing and does not provide any bitter aftertaste, which greens are notorious for. BEAM is very good at flavoring and it shines in this green powder.
Mixability:
Greens are known to be notorious for clumping and bad mixability. Beam Greens, on the other hand, does a good job of combating that common problem. When mixed up it does leave some particles and at the bottom of your shaker, but that is going to be inevitable with such a complex Greens formula. The way BEAM can make a large raw active greens profile shows the amount of quality control the company put into formulating this product. I used 1 scoop in around 16-24oz of water, which tends to be a sweet spot for myself with most greens powders.
Formula: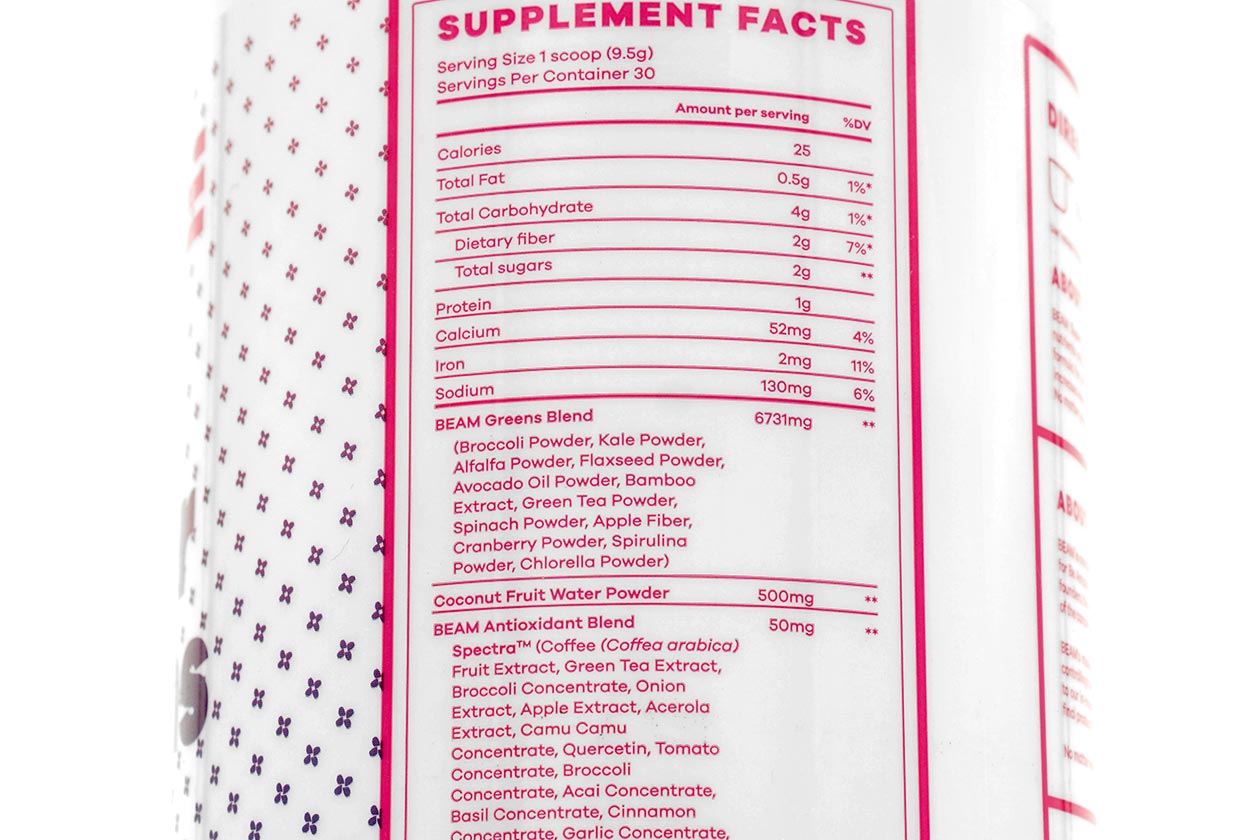 Calories ~ 25
Carbs ~ 4g
Fiber ~ 2g
Protein ~ 1g
Greens Blends – 6.73g (Vitamins & Minerals)
Coconut Fruit Water Powder – 500mg (Hydration)
BEAM Antioxidant Blend – 50mg (Help the body defend against free radical damage)
Prebiotic Fiber (Aid Digestion)
A total of 26 Fruits & Veggies
Naturally Flavored
Gluten & Soy Free