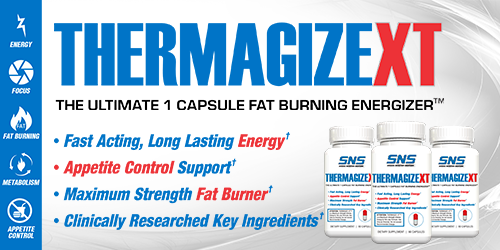 Thermagize XT
The Ultimate 1 capsule Fat Burning Energizer``
Thermagize XT was designed with one goal in mind – to be the strongest 1 capsule fat loss product and extreme energizer available.
Thermagize XT is designed for those looking for a complete thermogenic fat loss formula that delivers intense long lasting energy, mental focus, & thermogenic metabolism accelerant properties.
Thermagize XT Highlights:
Complete Thermogenic Fat Loss Formula
Fast Acting, Long Lasting Energy
Maximum Strength Fat Burner
Potent Thermogenic Energizer
Intense Metabolism Accelerant
Improved Mental Focus
Appetite Control Support
Clinically Researched Key Ingredients
No Deceptive Proprietary Blends
One Capsule Dose
Ask Yourself a Few Questions:
Do you feel like you lack the energy to exercise or even be productive in day to day life?
Is your appetite out of control and holding you back from achieving your desired results?
Do you want to achieve maximum results as quickly as possible?
Has your weight loss hit a sticking point?
Are you tired of taking handfuls of pills of other fat loss products?
If you answered yes to any of the above questions, Thermagize XT may be right for you.
We will not be releasing any ingredients for at least a week while we get some logistics in place for the product launch.