Ghost Gamer Sour Patch Kids Pineapple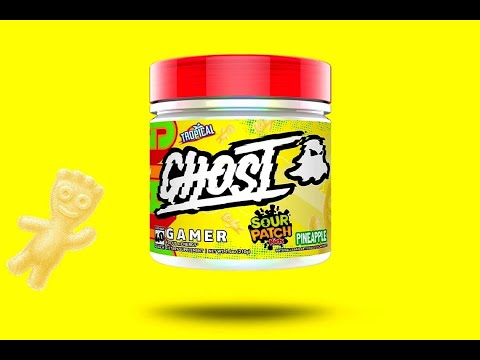 Taste
Sour Patch Kids Pineapple – The density and flavor of SPK Pineapple is just like all the other sour candy flavors off the ghost line. Right away the bold and rich pineapple flavor is met with a sour and sweet aftertaste. The tart citrus flavor of fresh pineapple is present off the first sip, and the sour aftertaste is present all the way through the backend. The SPK flavors do have a bit of bite to them since they are bold in flavor, but this one is a very good replica of the actual candy.
Mixability
Ghost Gamer mixes with ease. When mixed in a shaker cup or blender bottle it dissolves easily. There is no clumping of particles floating when mixed after a few shakes. It did leave a touch of foam but that went away very quickly. I see no issue with mixing this product as Ghost is very good with Mixability across the board.
Launch
July 18th, Monday
12 AM Central
1 AM Eastern
Formula
Per 2 Scoops:
1.6g NooLVL (Inositol Enhanced Bonded Arginine Silicate) – increase performance, accuracy, speed, decision-making, and reaction time
1g Taurine (Improve Performance & Energy Levels)
1g L-Tyrosine (Cognitive Enhancer)
500mg Cognizin Citicoline (Nootropic / Cognitive Enhancer)
500mg Raw Coconut Water Powder (Hydration)
150mg Natural Caffeine
50mg Astragin (Enhance Ingredient Uptake)
40mg Theobromine (Nootropic / Cognitive Enhancer)