Hey guys.
Sharing some info from my homeland.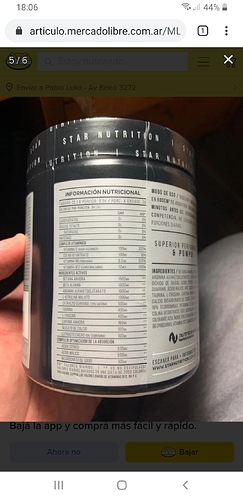 Price: $9.35 US Dollars
30 servings (9.5 grams per serving)
Vitamine Complex
Ascorbic Acid 100mg
Cholini Bitartate 100mg
Pyridoxine 6.5mg
Cyanocobalamin 12mcg
Active ingredients
Betaine Anhydrous 1500mg
Beta Alanine 1500mg
AAKG 1000MG
L-Citruline Malate (does not show ratio) 1000mg
Guaraná Extract (20% caffeine) 500mg
Taurine 400mg
L-Tyrosine 400mg
Caffeine Anhydrous 160mg
Calcium Silicate 100mg (idk the purpose of this)
Cocoa Extract (6% Theobromine) 100mg
Optimizing Absorption Complex
Citric Acid 500mg
Malic Acid 500mg (maybe the ratio of CM is 1:1)
Sodium Bicarbonate 100mg
So here is the first argentinian formula of a pre workout that I have ever considered "regular".
Any opinions?
Full link: https://articulo.mercadolibre.com.ar/MLA-868792460-pump-v8-285-gr-pre-workout-star-cafeinataurina-zona-norte-_JM?variation=60231948639#reco_item_pos=0&reco_backend=navigation&reco_backend_type=function&reco_client=home_navigation-recommendations-seed&reco_id=82692f1c-4b7e-4fb6-8799-cd316ad2fdf3&c_id=/home/navigation-recommendations-seed/element&c_element_order=1&c_uid=8315c00c-e368-4a4d-a035-b07477a1f898
Funny fact: the company, "Star Nutrition" does not show the formula in their website. I had to ask to the online vendor to post a photo of the formula lol.
I do not know if the formula actually has what it says, since the supplement market here is very lackluster.